After hitting western Cuba, Ian threatens Florida as a major hurricane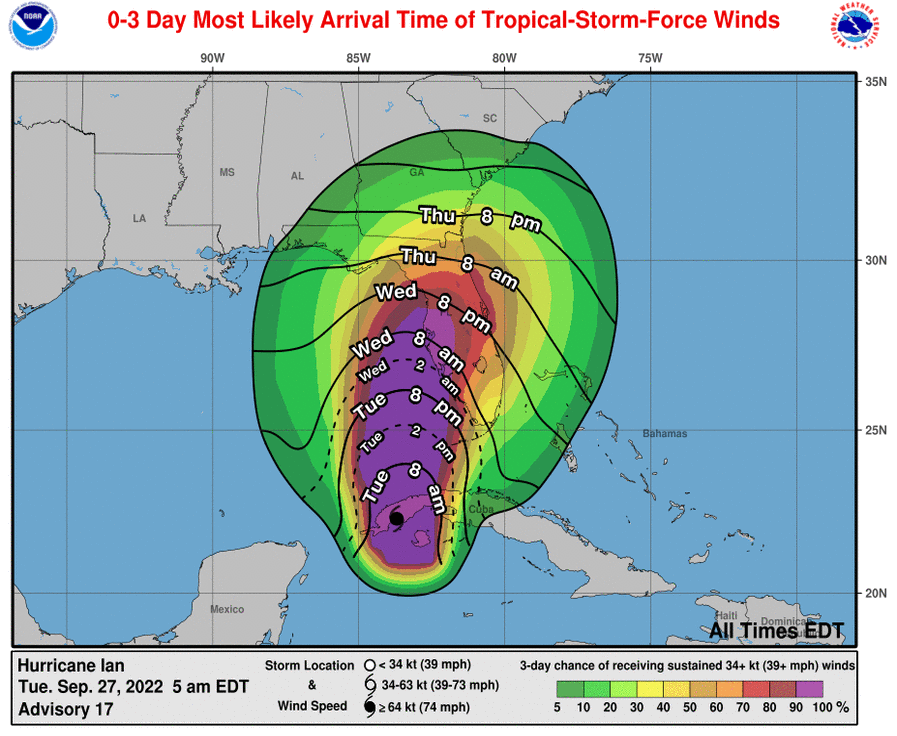 Image Source: NHC
Hurricane Ian, which made landfall in Cuba this Tuesday morning with winds of about 125 miles per hour (205 km/h), will maintain its strength as it crosses the largest of the Antilles and will strengthen when it emerges in the Gulf of Mexico as a major threat to Florida (USA), in the form of storm surge, wind, rain and tornadoes.
The US National Hurricane Center (NHC) reported at 0800 hours (1200 GMT) that Ian, category 3 on the Saffir-Simpson scale (out of a total of 5) is having "significant impacts of winds and storm surge over western Cuba". At the time of the bulletin, the center of Ian, the fourth hurricane of 2022 in the Atlantic, was located about 10 miles (15 km) northeast of the city of Pinar del Río (Cuba) and about 115 miles (185 km) to the south-southwest. of the Dry Tortugas, one of the Florida Keys.
Beginning tonight Ian, which is moving at about 12 miles per hour (19 km/h) as it passes over western Cuba, turn north-northeast and slow down. Maximum sustained winds are near 125 mph (205 km/h) with higher gusts, and little change in strength is expected as Ian moves over Cuba, although it will strengthen as it moves across the southeastern Gulf of Mexico.
Hurricane-force winds extend up to 35 miles (55 km) from the center, and weaker tropical-storm-force winds extend out to 115 miles (185 km). According to the trajectory forecast, after having passed Cuba, Ian will emerge today over the southeastern Gulf of Mexico and pass west of the Florida Keys, some of which are under a hurricane warning.
On Wednesday it will approach the west coast of Florida and will make landfall probably that night or early Thursday somewhere in the central part of that coastline as a "dangerous major hurricane." The warnings and vigilance of the NHC also extend to a sector of central Florida and another of the coast of the southeast coast of the state.
As in Cuba, in the part of Florida included in Ian's trajectory cone, dangerous storm surges can be produced that, combined with the tide, flood normally dry coastal areas.
In western Cuba, according to the NHC, the sea level can rise between 9 and 14 feet (2.7 to 4.2 meters). The water could reach up to 10 feet (3 meters) above ground level in the Tampa Bay area (Florida), where more than 3.1 million people reside and mandatory and voluntary evacuation orders are already in force.
In addition to those sea level rises, accompanied by strong waves at some points, Ian is expected to produce heavy rains in Cuba and Florida, with the risk of flash flooding.
Source: Listin Diario