Collision between US boat and Cuban coast guard leaves five dead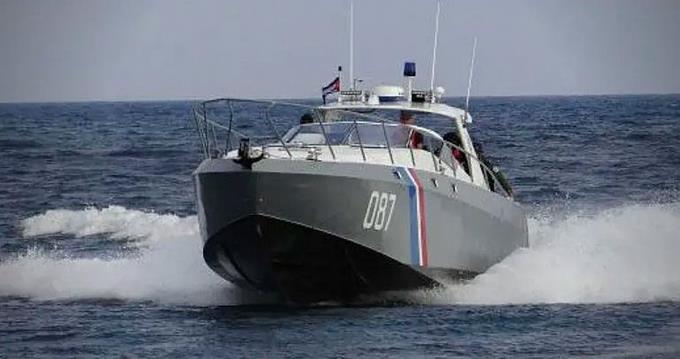 Havana, Cuba
Five people were killed when the island's authorities reported that a speedboat from the United States that violated Cuban territorial waters and was apparently carrying out a migrant smuggling operation sank off the northern coast of the Caribbean nation.
The boat collided with a Cuban Border Guard Troop's vessel in Bahia Honda, Artemisa province, the Interior Ministry (Minint) said Saturday in a statement published by the official portal Cubadebate. The exact date of the collision was not specified.
The incident takes place amid a migration record from Cuba and other countries to the United States, primarily through the northern border of Mexico, where people arrive after starting dangerous journeys that begin in Nicaragua – a country that does not require a visa for nationals of the island – but also from the Caribbean through the Straits of Florida.
According to the Minint note, "the offending boat turned" when it collided with one of the units of the Border Guard Troops when the uniformed officers identified it in territorial waters.
Other vessels joined the search for the shipwrecked; 18 people were rescued alive, and five bodies were recovered – one man, three women, and a minor.
"The competent Cuban authorities are carrying out the pertinent investigative actions for the total clarification of this painful event," the statement added.
The authorities of the Caribbean nation blamed in their official note the U.S. government for encouraging this illegal departure and others of its kind "by allowing irregular migrants to remain in its territory," maintaining the Cuban Adjustment Act, a rule from the 1960s that grants benefits to islanders who arrive in the neighboring country by giving them refugee status.
"The U.S. government does not contribute to guarantee a safe, orderly and regular emigration, while trying to create situations of social destabilization," the Minint stressed in the communiqué. Bilateral relations are tense, although there was a discussion on the migration issue in the middle of the year.
Cuba is going through a severe economic crisis in which U.S. sanctions toughened during the administration of then-President Donald Trump. However, the consequences of the paralysis caused by the coronavirus pandemic, which affected vital sectors such as tourism, are mixed.
The island experiences times of food, medicine, and fuel shortages, as well as extended blackouts.
U.S. border authorities reported more than 220,000 encounters with Cubans in the fiscal year 2022 -from October 2021 to last September. In addition, the U.S. Coast Guard said it intercepted 6,182 migrants moving by sea in the same period. Both figures are records.
For its part, the U.S. Embassy on the island sent through its Twitter account its condolences to the families of the deceased. Furthermore, it indicated that it is working on expanding legal channels and warned about the fatal risks of taking these irregular routes.