368 migrants found stranded in mountains in southern Mexico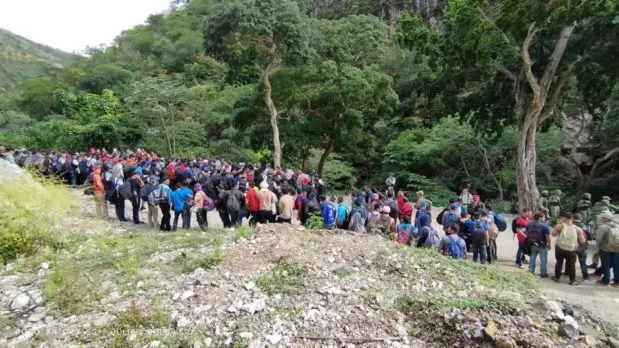 368 abandoned migrants discovered in the mountains of southern Mexico. External source.
Mexico- A group of more than 350 abandoned migrants is discovered in a clandestine camp in mountainous southern Mexico where they were waiting to cross the border into the United States. Among the undocumented migrants were children, women, and at least seven nationalities from Latin America.
The National Migration Institute (INM) reported in a statement that the foreigners – among whom were children and women – were in a clandestine camp in a difficult-to-access area of the municipality of Tecpatán, in the southern state of Chiapas.
The migratory authority specified that they were located by elements of the National Guard who received a complaint about the presence of migrants in the area and that they would be transferred to the border with the United States.
US migrants. Archive
An INM official who requested anonymity because he was not authorized to speak told The Associated Press that they are investigating whether human smugglers set up the camp to hide the migrants before smuggling them north.
In the group of migrants, there were 217 undocumented people from Guatemala, 85 from Nicaragua, 45 from Ecuador, 11 from Honduras, seven from El Salvador, and three from Cuba.
Migration assured that it provided assistance and transferred the migrants to the Border Transit Attention Center in Chiapas to determine their situation, whether they remain in the country or possible deportation.
This is the sixth – and most numerous – discovery of migrants left in the hands of the authorities in southern Mexico in recent times.
Between July and November, there were five others in which 508 foreigners were intercepted while transported in vehicles and trucks. Most cases are in the central region of Chiapas, as traffickers use dirt roads with less surveillance to circumvent highway security devices.
US reinforces agents and shelters due to the risk of mass immigration
A month ago, the immigration authority and the National Guard supported operations on the border with Guatemala parallel to the United States' decision in mid-October to impose restrictions.
To control this migratory flow, operations have been intensified with more inspection points on highways, in hotels and roads, and with small groups of people leaving Tapachula, the border city with Guatemala from which human caravans have previously emerged.