Death toll from powerful earthquake in Turkey and Syria rises to more than 2,300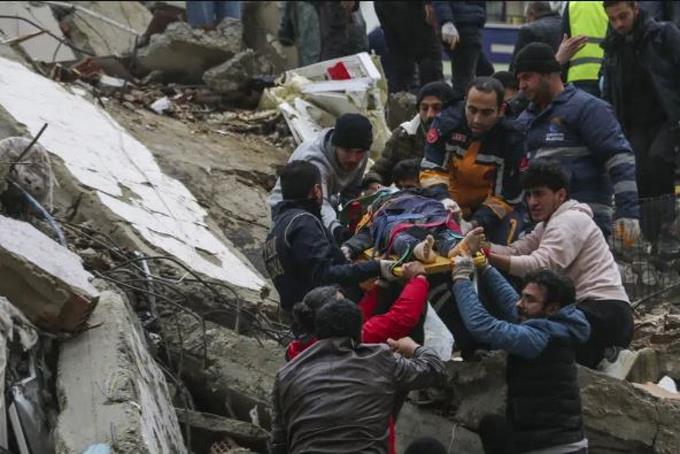 Early on Monday, a strong 7.8 magnitude earthquake shook large portions of Turkey and Syria, causing hundreds of buildings to collapse and killing more than 2,300 people. Hundreds of people were believed to be trapped beneath the rubble, and the death toll was expected to rise as rescuers searched for rubble piles in nearby cities and towns. On both sides of the border, residents awakened by the quake before dawn ran outside on a cold, rainy, and snowy night. Buildings were reduced to mounds of pancaked floors, and the region was shaken by powerful aftershocks or new earthquakes, including one nearly as powerful as the first. Rescuers and residents in several cities combed through tangles of metal and concrete in search of survivors. A Turkish hospital has collapsed, and patients, including newborns, have been evacuated from the Syrian facility.
Three buildings collapsed near a resident's home in the Turkish city of Adana. "I have no strength anymore," a survivor could be heard screaming from under the rubble as rescuers tried to reach him, according to the resident, Muhammet Fatih Yavuz, a journalism student. "We don't know how many deaths and injuries will increase as rubble removal efforts continue at many buildings in the earthquake zone," Turkish President Recep Tayyip Erdogan said. "Hopefully, as a country and a nation, we will put these disastrous days behind us in unity and solidarity." The earthquake, which struck Turkey's southeastern province of Kahramanmaras, was felt as far away as Cairo. It frightened Damascus residents and woke up Beirut residents in their beds.
It struck a region that has been shaped on both sides of the border by Syria's civil war for more than a decade. The affected strip in Syria is divided between government-controlled territory and the country's last opposition-controlled enclave, which is surrounded by Russian-backed government forces. Turkey, for its part, has taken in millions of refugees fleeing the conflict. Syria's opposition-controlled areas are teeming with 4 million people who have been displaced from other parts of the country by the fighting. Many of them live in buildings that have already been destroyed by previous shelling. According to the White Helmets, an opposition emergency organization, hundreds of families were trapped in the rubble.
According to rescuers, overcrowded health facilities and hospitals quickly filled with the injured. According to the SAMS medical organization, others, including a maternity hospital, had to be emptied. The region is located on major fault lines and is frequently shaken by earthquakes. In 1999, an equally powerful earthquake struck northwestern Turkey, killing 18,000 people. The US Geological Survey recorded a 7.8 magnitude earthquake on Monday. A magnitude 7.5 earthquake struck more than 100 kilometers (60 miles) away hours later. An official with Turkey's disaster management agency said it was a new quake, not an aftershock, though the consequences were unclear at the time. According to Orhan Tatar, hundreds of aftershocks were expected following the two tremors.