Dominican Republic and Brazil update air transport agreement protocol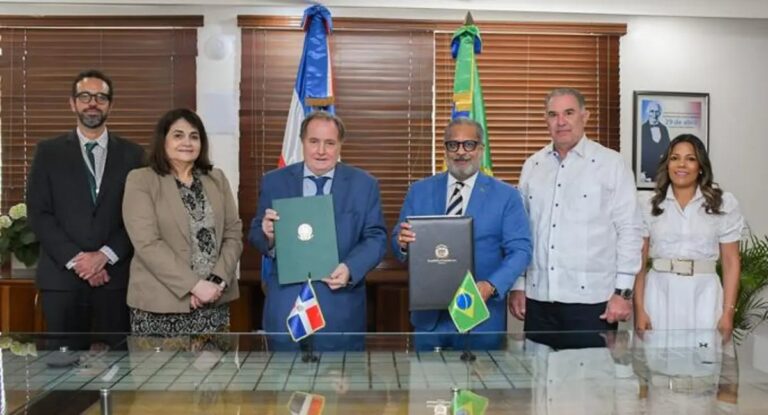 On Friday, the Civil Aviation Board (JAC) announced that the Dominican Republic and Brazil signed an updated Air Transport Services Protocol to modernize the existing agreement between both nations signed in 2018. The objective of the new protocol is to strengthen the bilateral relationship in commercial aviation and allow greater access to the market for airlines to fly between the two territories and beyond, benefiting travelers and carriers from both states. The protocol will expand air operations, streamline user services, and create more options for flying to and from either of the two territories.
The president of JAC, José Ernesto Marte Piantini, and the Brazilian ambassador in the country, Renan Leite Paes Barreto, signed the protocol to deepen air cooperation by facilitating connectivity and passenger flow, establishing traffic rights in exclusive cargo operations, without limits on frequency, capacity, routes, aircraft types, and cargo destination. The objective is to strengthen economic growth by allowing both countries to benefit from the increased flow of passengers.
Brazil is historically the fifth most active market in South America, and the Dominican government is focusing on it. The flow of passengers between the two territories has grown, with the Sao Paulo/Punta Cana route being the most active. Between 2017 and February 2023, 279,852 passengers traveled between Brazil and the Dominican Republic, mainly from the cities of Sao Paulo, Brasilia, and Manaus. In the first two months of 2023, 10,000 passengers were transported, representing a growth of 34% compared to the same period the previous year.
Civil aviation is among the sectors with the greatest capacity to attract capital to the market, and between 2010 and 2018, the Dominican Republic captured 22 billion dollars in direct Brazilian investment. The reciprocity experienced by both countries is surprising, said the Brazilian ambassador, and the new protocol is expected to strengthen economic growth and the bilateral relationship between both nations in the field of commercial aviation.