Abinader returns to the country after participating in the coronation of the king of Charles III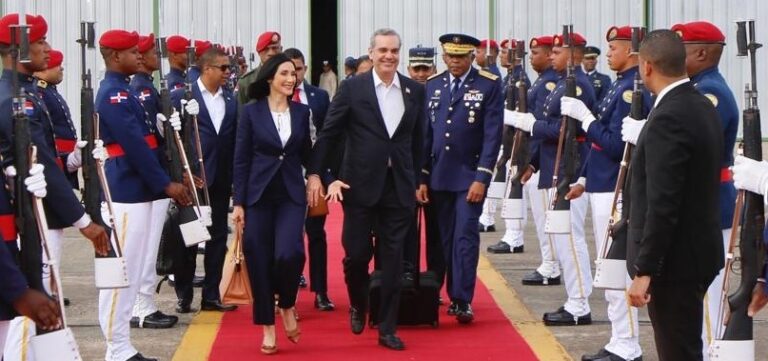 President Luis Abinader made history by becoming the first Dominican president to participate in the coronation ceremony of King Charles III and Queen Camila in London, United Kingdom. Accompanied by the first lady Raquel Arbaje and a delegation of government officials, the president arrived in London on Thursday morning and was greeted by Her Majesty The King's Representative and officials from the UK Foreign Office. During his visit, the president participated in various events and meetings with other heads of state and government officials.
On Friday morning, President Abinader attended a breakfast hosted by the UK government for heads of state from island countries. Later, he met with David Rutley, the Minister for the Americas and the Caribbean at the UK Foreign, Commonwealth, and Development Office, as well as with Baroness Gloria Hooper, UK Prime Minister's Trade Envoy for the Dominican Republic, Costa Rica, and Panama. During these meetings, they discussed issues of mutual interest for the development of relations between both nations.
On Saturday morning, President Abinader and the first lady attended the coronation ceremony of King Charles III and Queen Camila at Westminster Abbey. They were received by aides-de-camp from the Royal House and seated with other invited heads of state and government officials. After the ceremony, they attended a lunch offered by the Royal Household to the dignitaries present. The coronation was attended by more than 2,000 guests, including Heads of State and Government, Ministers of Foreign Affairs, and other high-level officials.
During the president's stay in London, he also visited a Dominican couple living in the city and participated in a reception offered to international delegations at Buckingham Palace. The president's visit to London highlights the importance of diplomatic relations between the Dominican Republic and the United Kingdom. It also serves as a milestone for the country as President Abinader became the first Dominican president to attend a monarch's coronation ceremony.