Haitian gang member arrested in the Dominican Republic and deported to Haiti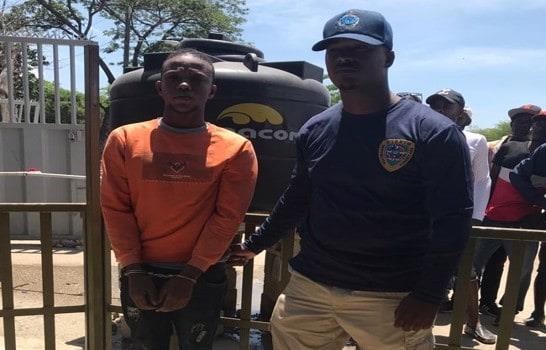 Santo Domingo.- The General Directorate of Migration (DGM) in the Dominican Republic has arrested Mykaisonne Yeye Fen, a Haitian national and alleged member of the notorious "Bois D'homme" gang in Haiti, on charges of murder, attempted murder, aggravated robbery, and illicit merchandise trafficking, among others. According to Haitian authorities, the gang member was one of the most dangerous criminals in Haiti, and he was arrested at kilometer 10 of the Duarte Highway, near Carrefour in Santo Domingo Oeste.
The DGM noted that it had been working jointly with intelligence agencies, the army, the National Police, and other government bodies to apprehend Haitian nationals with pending legal issues in their home country. The immigration agents have made several arrests in recent weeks, including that of Jeff Yeye, a member of the "SenkSegonn" gang that has been accused of killing hundreds of civilians in Haiti.
Yeye Fen was handed over to the Haitian Police, through the Coordinated Border Management Base, at the border point of the Elías Piña province. The General Coordinator of Immigration Services at the border point of Elías Piña, Guacanagarix Trinidad, processed his deportation. The DGM director, Venancio Alcántara, has pledged to prevent the entry of Haitian criminals into the Dominican Republic and to monitor the border strip by air, sea, and land in a coordinated manner to protect national security.
The ongoing political and socioeconomic crisis in Haiti has led to a rise in violence and the reappearance of cholera, which has caused over 600 deaths in the country since October 2021. This crisis has prompted Haitian Prime Minister Ariel Henry to request the dispatch of a foreign force, although he has yet to receive a concrete response.
The arrest of Yeye Fen and other Haitian nationals by the DGM highlights the ongoing efforts by the Dominican government to tackle organized crime and prevent the entry of criminals into the country. The joint efforts of immigration agents, intelligence agencies, the army, and the National Police demonstrate a concerted approach to ensuring public safety and upholding the rule of law.