Thousands of visitors celebrate at the Dominican Embassy in Washington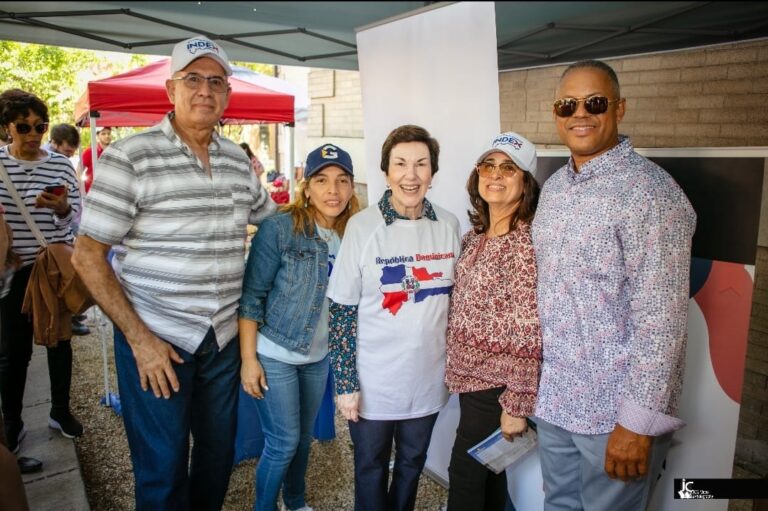 Washington.- The headquarters of the Dominican Embassy in the United States welcomed a large crowd during the 'Passport DC' event, which allowed diplomatic representations to showcase their countries as part of the International Month of Cultural Awareness. Coordinated with the Institute for Dominicans Abroad (INDEX), the event turned into a lively street party with music, dance, traditional costumes, delicious food, and a variety of drinks. Dominicans mingled with tourists from around the world and residents of the American capital.
Visitors had the opportunity to experience a carnival exhibition featuring posters and mannequins of diablos cojuelos, as well as a display of the traditional chacabanas worn in a recent parade by Sheyla Vie Collections. Attendees enjoyed drinks such as Barceló and Brugal rum, Presidente beer, and the delightful Chinola brand liquor. They also had the chance to savor Santo Domingo coffee, Embajador chocolate, Hatuey biscuits, and refreshing natural juices made from chinola (passionfruit) and tamarind.
Adding to the festive atmosphere, a bachata and merengue band provided lively entertainment, courtesy of the Washington Mayor's Office. Spectators indulged in traditional Dominican cuisine and desserts and had the opportunity to purchase Dominican products, including amber and larimar jewelry, children's games, and guano handbags, among other items.