Florida witnesses mass protests in response to new Immigration Law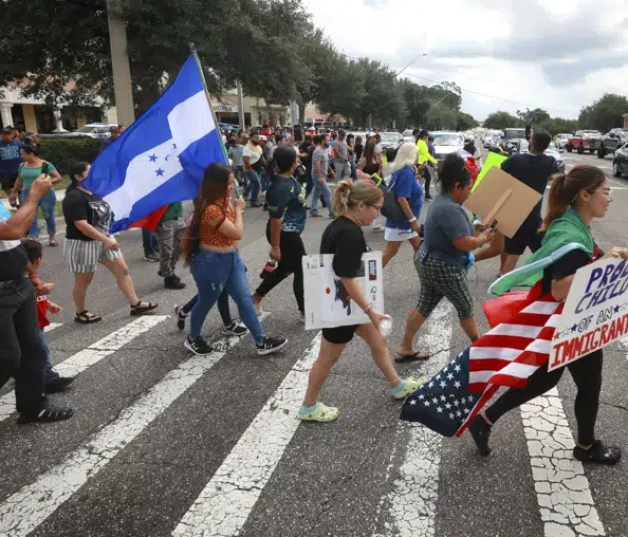 Florida.- Workers across Florida, including those in construction and agriculture, joined in a statewide protest on Thursday, known as "a day without immigrants," to denounce a recently enacted state law imposing restrictions on undocumented immigrants. Numerous small businesses, restaurants, and shops also showed solidarity by keeping their doors closed for the day.
In the Orlando metropolitan area, demonstrators gathered outside the office of a state legislator who sponsored the controversial law. The protest saw the participation of dozens of protesters, with some trucks mounted with small construction cranes making a strong visual statement.
In Immokalee, an area renowned for tomato cultivation in southwest Florida, hundreds of protesters, often accompanied by their families, marched for two miles around the town, carrying banners and chanting slogans in a powerful display of unity.
In Fort Lauderdale, opponents of the law gathered outside Isis Córdova's Latino soup kitchen, which remained closed as a form of protest. Córdova, who now has legal status in the country, expressed her determination to raise her voice on behalf of those who are still living in fear and shadows due to their immigration status.
The law, signed by Florida Governor Ron DeSantis last month, strengthens the state's immigrant resettlement program and imposes limitations on social services for undocumented immigrants. It also imposes stricter requirements for businesses with over 25 employees to use E-Verify, a federal system used to determine an employee's legal eligibility to work in the United States. Additionally, hospitals that accept Medicaid are now required to include a citizenship question on intake forms, a provision criticized for discouraging undocumented migrants from seeking necessary medical care.
The Latinx civil rights group LULAC recently advised Hispanics to avoid traveling to Florida, citing concerns about the marginalization of migrant communities and the law's moral implications. Other civil rights organizations, including the NAACP and the Human Rights Campaign, have similarly discouraged travel to Florida, arguing that the state's new laws and policies demonstrate a clear hostility toward African-Americans, people of color, and LGBTQ+ individuals.
Meanwhile, Governor DeSantis, who launched his campaign for the 2024 Republican Party presidential nomination last week, maintains that the new law is primarily focused on addressing illegal immigration and does not target those who are in the country legally, as stated by his office's spokesperson.