India attributes derailment with 275 deaths to signaling failure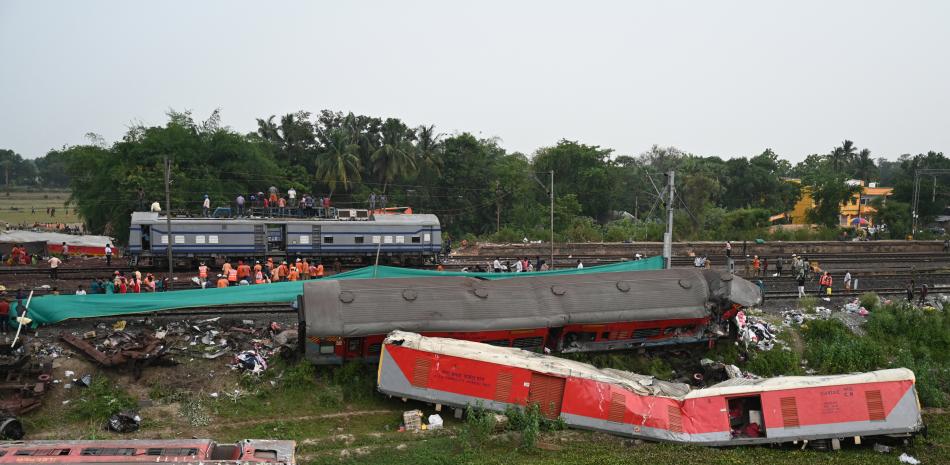 Balasore, India.- According to authorities, the derailment in eastern India that resulted in the deaths of 275 people and injuries to many more was caused by an error in the electronic signaling system. The incident occurred when a train mistakenly changed tracks and collided with a freight train.
Efforts were underway to clear the wreckage of the two passenger trains, which derailed in the Balasore district of Odisha state on Friday. It is considered one of the deadliest rail accidents in the country in decades.
The death toll was revised to 275 by the Odisha government, contrary to an earlier report that suggested over 300 fatalities. The investigation revealed that the Coromandel Express, a high-speed train, received a signal to enter the main track. However, the signal was later removed, causing the train to enter an adjacent branch track where it collided with a freight train carrying iron. The impact led to the overturning of carriages from the Coromandel Express onto another track, resulting in a three-train collision involving the Yesvantpur-Howrah Express.
The passenger trains were not traveling at high speeds, and it is common practice to park freight trains on side tracks to clear the main route for other trains, as explained by Jaya Verma Sinha, a senior railway official. Verma attributed the incident to an error in the electronic signaling system, and a thorough investigation will determine whether the error was due to human or technical factors.
The electronic signaling system is designed as a safety measure to prevent conflicting train movements and monitors information such as the distance to the next train, speed limits, and the presence of stationary trains on the tracks. While the system is considered 99.9% error-free, there is always a possibility of a 0.1% error, according to the official. The authorities have not ruled out the possibility of sabotage as a cause for the accident.
Recovery efforts were underway at the accident site, with railway workers repairing tracks and removing debris. Survivors shared their accounts of the horrific accident, with some describing the loud impact and scenes of people in pain and distress. Inder Mahato, who was trapped in a bathroom during the incident, was eventually rescued but lost four of his friends.
Many affected individuals faced difficulties in identifying the bodies of their loved ones due to the severity of their injuries. Some visited hospitals in search of their relatives, hoping for positive news. The tragic incident has left many families in shock and mourning.