Dominican Republic and other Caribbean countries affected by high temperatures and dust from the Sahara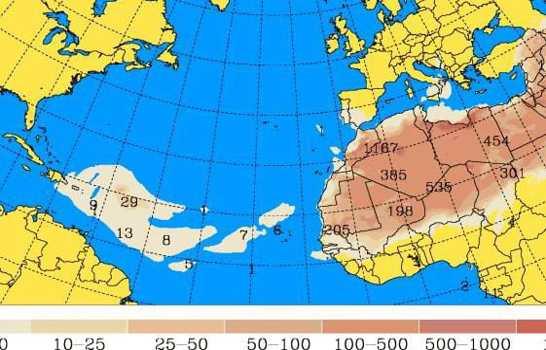 Santo Domingo.- Several countries in the Caribbean, including the Dominican Republic, are currently experiencing high temperatures. In the Dominican Republic, temperatures are expected to reach between 33°C and 35°C. The warm environment is attributed to meteorological factors such as humidity, the south/southeast wind, and the presence of Saharan dust particles at times.
The National Meteorological Office (Onamet) in the Dominican Republic has advised the population to stay hydrated, wear light-colored clothing, and avoid direct exposure to the sun between 11:00 am and 4:00 pm.
The Saharan dust, which consists of dry, sand-laden air, is a phenomenon that occurs when trade winds carry the dust westward over the tropical Atlantic Ocean. This dust can affect various countries in the region, including Puerto Rico, Trinidad and Tobago, Cuba, Jamaica, Antigua and Barbuda, and the British Virgin Islands.
Puerto Rico is currently experiencing the densest cloud of Saharan dust so far this year, accompanied by extreme heat. Trinidad and Tobago are also affected by the dust particles from the Sahara, although generally sunny conditions are expected with isolated showers. In Cuba, temperatures are projected to reach maximum values between 30°C and 33°C in the afternoon and drop to values between 23°C and 26°C at night. Jamaica is anticipating temperatures up to 32°C in places like Kingston and Montego Bay. Antigua and Barbuda expect hot conditions due to the combination of high temperatures, humidity, and light winds. The British Virgin Islands forecast maximum and minimum temperatures of up to 31°C.
It is important for residents and visitors in these areas to take necessary precautions to stay safe and comfortable during the period of high temperatures.