Pope Francis honors three Dominicans with "The Cross of the Church and the Pope"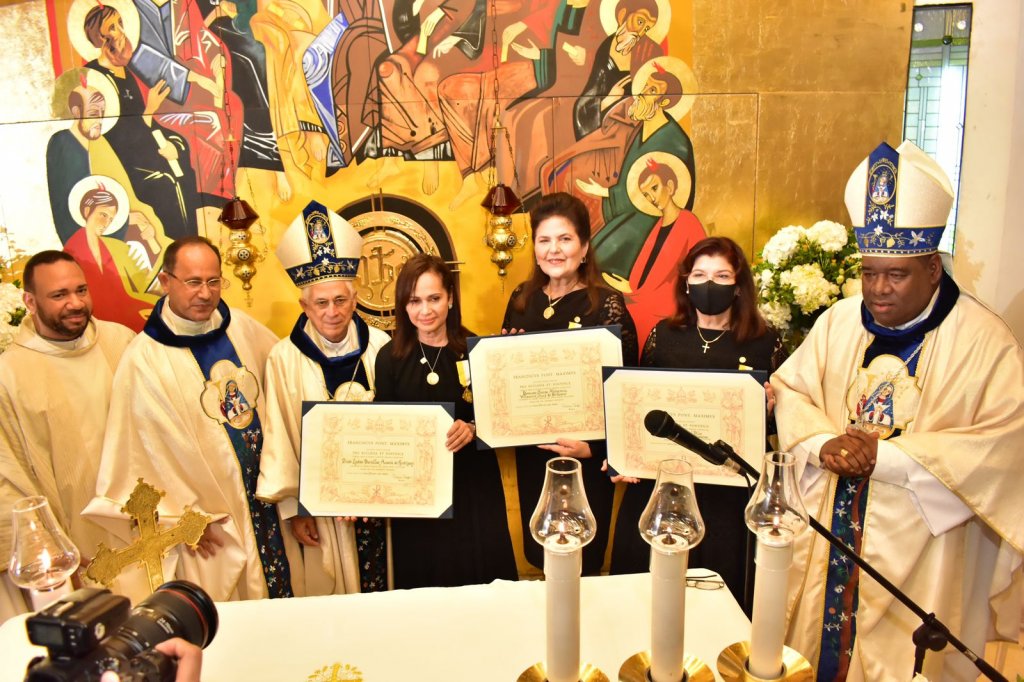 Santo Domingo.– In a religious ceremony, Monsignor Jain Méndez awarded a papal decoration to Lidia Acosta de Rodríguez, Sonia Villanueva de Brouwer, and María del Pilar Rodríguez. This marked the first time such a distinction has been granted in the country, recognizing the contributions of these Dominican women to the celebration of the Jubilee Year and the commemoration of the centenary of the coronation of the Virgin of Altagracia.
The ceremony took place at the residence of Lidia and Jesús Rodríguez Sandoval, with the presence of the families of the three honored ladies. Monsignor Jesús Castro presided over the event, with concelebrations by Monsignors Jain Méndez, José Dolores Grullón Estrella, Francisco Ozoria, and Reverend Fathers Joaquín Domínguez and Sergio de la Cruz, as well as seminarian Jacobo Lama. The occasion featured a repertoire performed by a choir directed by Héctor Martínez, which added sublimity to the already solemn atmosphere.
During the ceremony, Villanueva de Brouwer, Acosta de Rodríguez, and del Pilar Rodríguez read a letter of gratitude addressed to His Holiness, Pope Francis, which was handed over to Monsignor Méndez, the charge d'affaires of the Apostolic Nunciature in the country.
Expressing their gratitude, the honored ladies expressed their satisfaction at receiving such a prestigious recognition and for their collaboration in the splendor of the Jubilee Year and the centenary commemoration of the coronation of the Virgin of Altagracia. They acknowledged the support of hundreds of faithful sponsors who made these events possible.
"This demonstrates that we are a country of faith and that the patroness of the Dominican people is revered in all aspects of our nation. Her presence resides in every heart. It is a privilege for our country to have the first invocation in America, representing the Holy Family," emphasized the honorees.
Monsignor Castro also highlighted the work of Monsignor José Dolores Grullón Estrella, the president of the commission for the celebration of the centenary of the canonical coronation of the Virgin of Altagracia. He praised Monsignor Grullón Estrella for inspiring everyone involved to achieve what was once considered unimaginable.