Mayor Eric Adams and Ydanis Rodríguez receive the Director of INTRANT in NY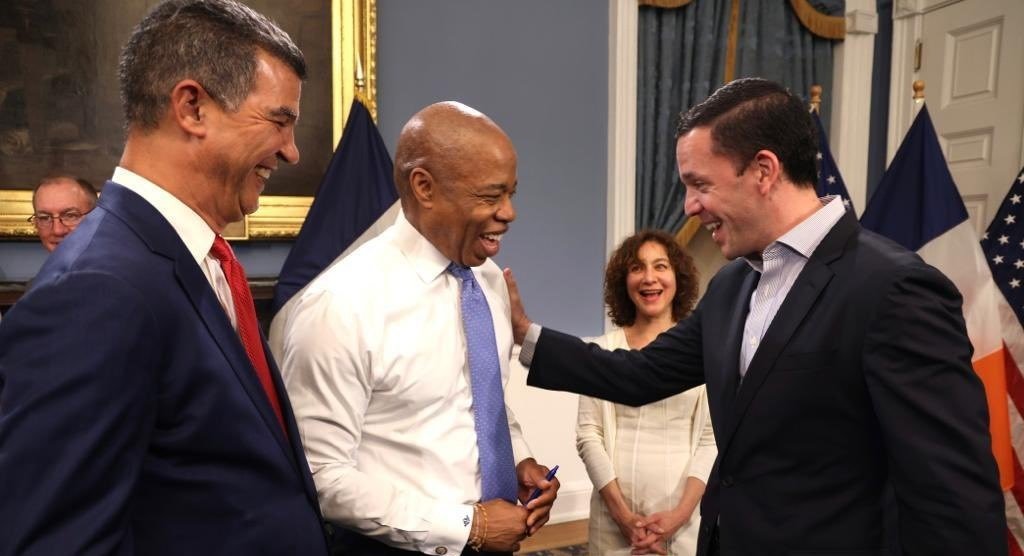 New York.- Hugo Beras, the executive director of the National Institute of Transit and Land Transportation (Intrant), visited the Traffic Control Center in New York City, where he was received by Mayor Eric Adams and Traffic Commissioner Ydanis Rodríguez. The purpose of the visit was to strengthen collaboration between the two administrations and learn from New York City's experience in urban traffic management, particularly in preparation for the upcoming implementation of a new traffic center in the Dominican Republic (DR).
Beras, accompanied by a technical team from Intrant, had the opportunity to observe the operations of the traffic command center in New York City and learn about the incorporation of new technologies for effective traffic management, including the systematization of traffic light timings.
Beras mentioned that in the coming months, as part of President Luis Abinader's government initiatives, a modern traffic control and administration center will be established in the DR. Furthermore, all traffic lights in the Greater Santo Domingo area will be replaced with updated equipment and smart cameras, setting a model for improved traffic management. Drones will also be implemented for monitoring purposes.
Mayor Adams expressed his willingness to collaborate with Intrant in transit and mobility improvements and offered assistance in public school transportation, based on common issues faced by both organizations.
During the visit, Beras observed various smart devices used in the New York City center to enhance vehicle flow and reduce traffic accidents. The insights gained from this visit will contribute to the transformation of traffic management practices in the Dominican Republic, integrating updated equipment and technologies.