Onamet warns about tropical storm Bret; fourth tropical depression forms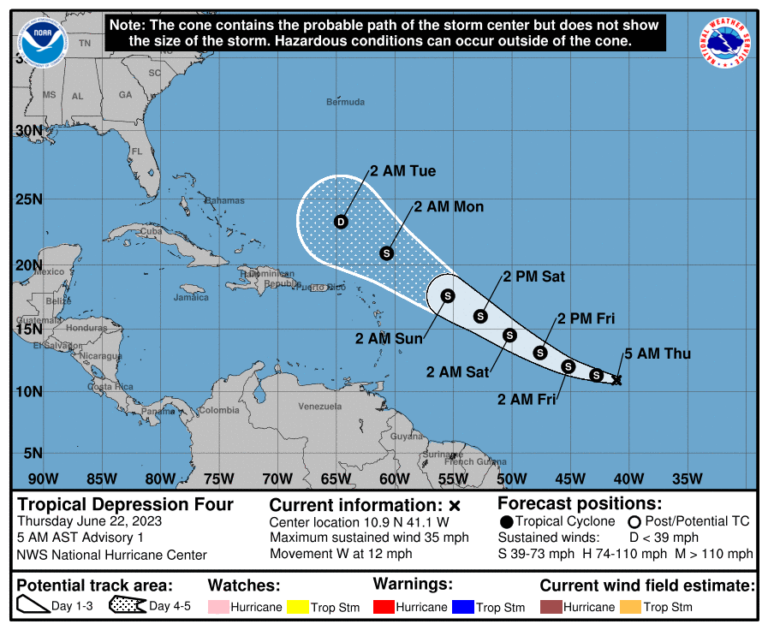 Santo Domingo.-Tropical storm BRET is currently located approximately 320 km east of Barbados and is moving west at a speed of about 24 km/h. It has maximum winds of 110 km/h, with storm-force winds extending up to 185 km from its center. Onamet has advised civil protection institutions and the general population to stay alert and pay attention to their future bulletins regarding this storm.
At the same time, tropical depression No.4 has formed and is located around 2,240 km east of the Lesser Antilles. It has maximum winds of 55 km/h and is moving west at a speed of 19 km/h.
For today, Thursday, Onamet forecasts the effects of a tropical wave currently situated in the Mona Channel and a trough in the wind channel. These conditions will lead to the development of clouds from the morning hours, accompanied by moderate to heavy downpours, thunderstorms, and occasional gusts of wind. The affected areas will include the north, northeast, eastern plain, Caribbean coast, and the Central Cordillera. Specifically, the provinces of Samaná, María Trinidad Sánchez, El Gran Santo Domingo, Peravia, San Cristóbal, Monseñor Nouel, San José de Ocoa, and La Vega may experience these weather conditions.
Tomorrow, Friday, the indirect influence of tropical storm BRET will begin to impact the region, resulting in increased winds. Combined with local effects, this will cause cloudiness from the morning hours, along with scattered downpours, isolated thunderstorms, and gusts of wind in the north, northeast, southeast (including Greater Santo Domingo), the Central Cordillera, and the border area.
Temperatures will remain hot, so it is advised to stay hydrated, wear light-colored clothing, and avoid prolonged exposure to sunlight without proper protection between 11:00 a.m. and 5:00 p.m. Extra caution should be taken with children and the elderly, as they are more vulnerable to high temperatures.