World2Fly strengthens commitment to the Dominican Republic: debuts Madrid-Santiago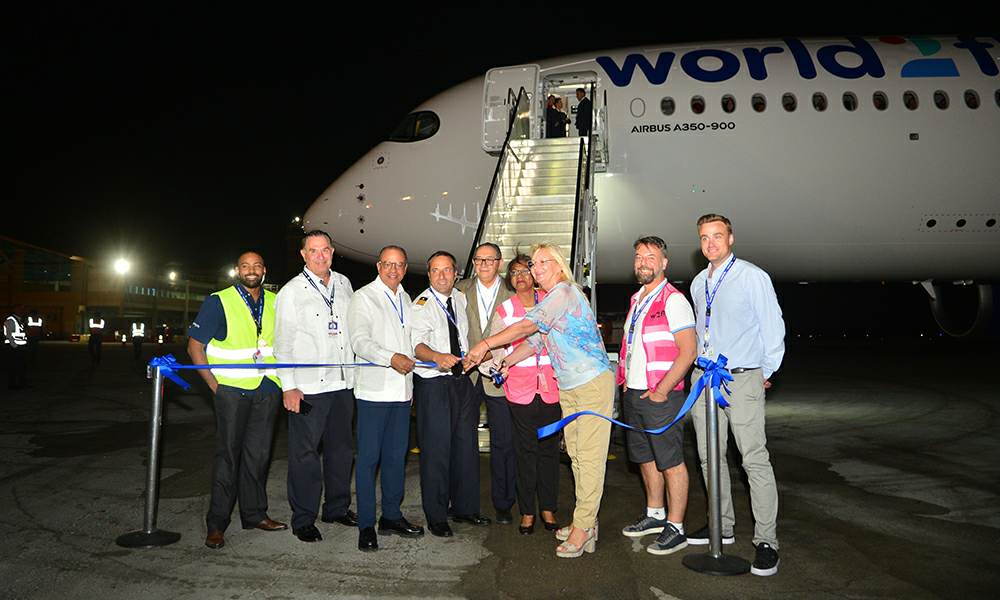 World2Fly, the airline under the travel division of the Iberostar Group, has officially launched its direct flight route between Madrid and Santiago. The new service will operate once a week, with flights departing every Wednesday, utilizing an Airbus A350 aircraft.
The inaugural flight, carrying 413 passengers and a crew of 10, arrived in Santiago at 8:00 p.m. local time. The return flight to Madrid is scheduled to depart at 9:50 p.m.
Upon arrival at Cibao International Airport, the World2Fly aircraft was welcomed by a delegation led by Teófilo Gómez, General Manager of the airport, along with other notable personalities including Katya Ivanova Taneva, Director of the World2Meet Group, and Loida Díaz, Director of Global Airlines Representation in the Dominican Republic.
Ivanova Taneva emphasized the significance of the Dominican market for World2Fly and expressed their commitment to the country. She noted that over the past two years, their operations in the Dominican Republic have expanded beyond Punta Cana to include Santiago and flights from Las Américas Airport.
Teófilo Gómez, General Manager of Cibao International Airport, expressed his delight in connecting the Cibao region with Europe through this new flight route. He extended a warm welcome to the passengers on the inaugural flight, highlighting the collaborative efforts of all parties involved in making this connection possible.
The success of the flight route was acknowledged, with gratitude expressed to World2Fly for their decision to operate the route, as well as the Ministry of Tourism and the Aviation Board for their support and collaboration. Gómez emphasized that connecting the Cibao airport with the world is a significant milestone and fulfills a promise that is expected to be a resounding success.
World2Fly currently operates flights to Punta Cana with four weekly frequencies from Madrid, as well as flights from Lisbon, Porto, and Santo Domingo. The launch of the Madrid-Santiago route further strengthens the airline's presence and connectivity in the Dominican Republic.