Governments of the Dominican Republic and Cuba agree to strengthen air connectivity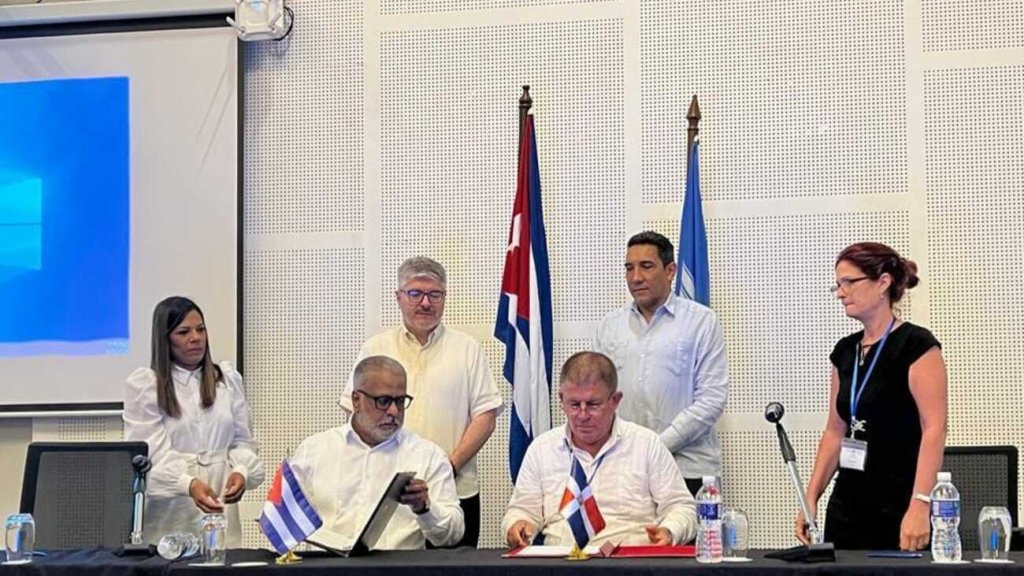 Santo Domingo.- During the Eleventh Meeting of Directors of Civil Aviation of North America, Central America, and the Caribbean, hosted by the Regional Office of the International Civil Aviation Organization (ICAO), José Ernesto Marte Piantini, President of the Civil Aviation Board (JAC), and Armando Luis Daniel López, from the Cuban Civil Aeronautics Institute (IACC), signed a Protocol of Amendment to the Air Transport Agreement between the Dominican Republic and Cuba.
The signing took place in the presence of Eduardo Rodríguez Dávila, Minister of Transportation of the Republic of Cuba, and Juan Carlos Salazar, Secretary General of ICAO.
According to a press release by the Presidency of the Republic, the signed document concludes the negotiations initiated by the Civil Aviation Board and updates the agreement originally signed in Havana, Cuba, on December 9, 2005. The modifications primarily focus on Article 3, which governs the designation and authorization of air operators between the two countries in the Caribbean region.
During the signing of the Protocol, Marte Piantini highlighted that the objective of updating the agreement, which was signed 18 years ago, is to enhance passenger flow, trade, connectivity, and overall air transport between the two territories. He expressed that the benefits of this agreement would extend to air operators serving the Cuba-Dominican Republic route, as both countries are significant economies in the Caribbean and the closer relationship in commercial aviation would foster growth.
Marte Piantini further emphasized that the new document updates the commercial air relations between Cuba and the Dominican Republic, allowing for multiple designations. He stated, "All national airlines can now operate air transport services for passengers, luggage, and cargo between the two countries. Previously, the agreement only allowed for the designation of two airlines from each country." Marte Piantini made these comments at the event taking place in Varadero from June 28 to 30.
He explained that the Civil Aviation Board continues to work towards fulfilling President Luis Abinader's commitment to establishing the Dominican Republic as the leading international air cargo hub with extensive connectivity in the Caribbean. This involves updating the Air Services Agreements and negotiating new agreements.