President Abinader honors three Canadian missionaries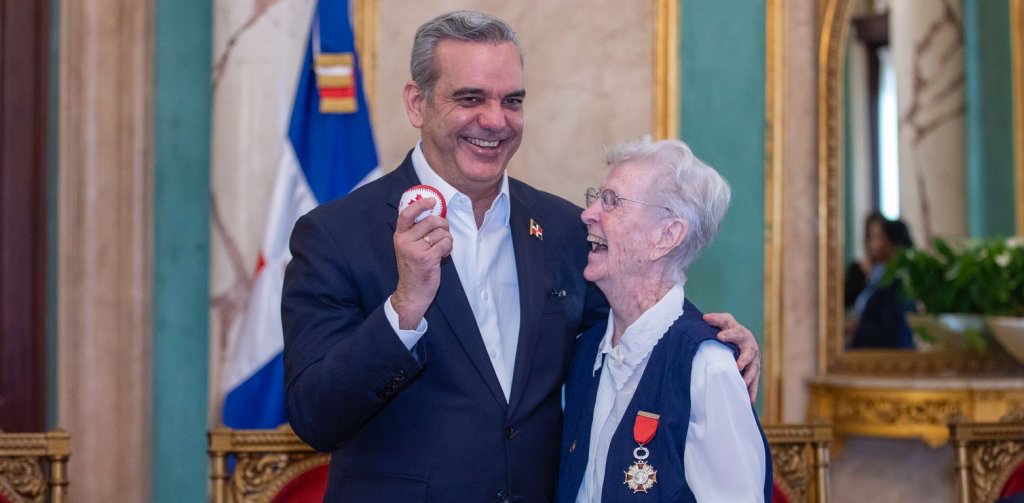 Santo Domingo.- President Luis Abinader honored three Canadian missionaries for their exceptional dedication as educators and community leaders, particularly in economically disadvantaged areas of the Dominican Republic.
Lenore Gibb, recognized as a tireless worker, received the Heraldic Order of Christopher Columbus in the rank of Knight. María Tiner and Joan Eileen Tinkess were presented with the Order of Merit from Duarte, Sánchez, and Mella, in the ranks of Knight, respectively. Decree 305-23 established this provision.
Lenore Gibb arrived in the country from Canada in 1958 and has dedicated her life to teaching vulnerable groups in the municipality of Consuelo, San Pedro de Macorís province, where she currently serves as an Education supervisor. In her brief speech, she expressed gratitude to God for her teaching vocation and thanked President Luis Abinader for the recognition she received. She also encouraged continued efforts to support underprivileged communities.
Joan Eileen Tinkess and María Tiner were acknowledged for their dedication as educators in Yamasá, Monte Plata province, and the Cutupú municipal district, La Vega province, respectively. They have trained numerous young individuals with technical skills and strong values.
Maria Tiner joined the Dominican Republic mission of her congregation in 1968, focusing on education in Yamasá. After studying canon law at the Catholic University of Ottawa, she worked in the marriage court for over three decades until her retirement.
Joan Eileen Tinkess, who became a nun at the age of 20, began her mission in the Yamasá community in 1958. She established the San Martín de Porres Secondary School in 1962, where she served as the director. Despite limited resources, she taught various subjects, including algebra, drawing, grammar, geography, and religion. Both Tinkess and Tiner continued their educational and social transformation work, particularly with peasant women affected by poverty, after Tinkess left her status as a nun.