Dominican delegation meets with Senator Bob Menéndez in Washington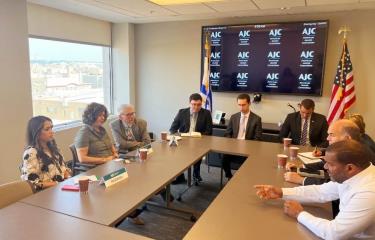 The commission appointed by President Luis Abinader to address the repercussions of the Haitian crisis in the Dominican Republic has been actively engaged in meetings and discussions in Washington DC. The commission recently met with the chairman of the United States Senate Foreign Relations Committee, Bob Menéndez, in the committee's meeting room.
Additionally, the Dominican delegation held important meetings with Congresswoman Sheila Cherfilus-McCormick, who represents the state of Florida and has Haitian descent, as well as with the American Jewish Committee (AJC), represented by Mr. Robert Elman, honorary president, and Dina Siegel Vann, director for Latin America.
The Dominican team, led by legislator Adriano Espaillat, includes representatives from various sectors, such as the president of the Dominican Academy of History, vice minister of foreign affairs, former ministers, and political leaders. Their objective is to promote consensual approaches and proposals regarding the Haitian crisis and its impact on the Dominican Republic.
The commission's efforts aim to present the situation to the United States authorities and seek support and cooperation in addressing the challenges arising from the ongoing crisis in Haiti. The meetings in Washington DC have been instrumental in building relationships and engaging in meaningful discussions with relevant stakeholders and legislators related to the US Congress.