Dominican school ship is used as a diplomatic instrument in Jamaica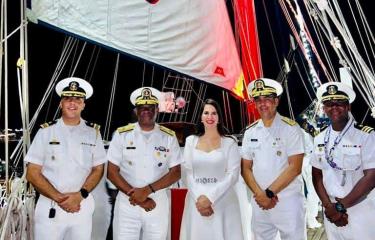 Jamaica.- The Training Ship "Almirante Juan Bautista Cambiaso" of the Dominican Republic Navy made a historic visit to the coast of Jamaica, proudly hoisting the Dominican tricolor flag for the first time. This momentous occasion not only marked the ship's first docking in Jamaica but also served as a significant diplomatic gesture to strengthen friendship, cooperation, and cultural exchange between the two nations.
The ship, known as the "Ambassador of the Seas of the World," arrived in Jamaica amidst a grand reception organized by the Dominican Embassy in Kingston. The event was attended by Jamaican government ministers, ambassadors, representatives from international organizations, members of the business and academic communities, civil society figures, and the Dominican community residing in Jamaica.
The inaugural ceremony was graced by the presence of important dignitaries, including the Dominican ambassador in Kingston, Angie Martínez, Commander General of the Dominican Navy, Francisco Antonio Sosa Castillo, head of the Jamaica Defense Force, Wemyss Gorman, director of the Dominican Naval School, Franklin Frías Duarte, and Captain of the ship, Feliz Acosta, among others. Jamaican Senator Aubyn Hill, Minister of Industry, Trade, and Investment, was also present.
Ambassador Martínez expressed the historic significance of the ship's visit, emphasizing the strengthening of friendship and cooperation between the Dominican Republic and Jamaica. She highlighted the symbolic value of this moment, demonstrating the enduring commitment and collaboration between the two nations, further solidifying their bond.
The arrival of the "Almirante Juan Bautista Cambiaso" to Jamaican shores signifies a powerful symbol of unity, goodwill, and shared aspirations between both countries. This landmark event showcases the commitment to nurturing diplomatic ties and fostering lasting relations between the Dominican Republic and Jamaica.