Miguel Vargas congratulates Pedro Sánchez for his performance in the general elections in Spain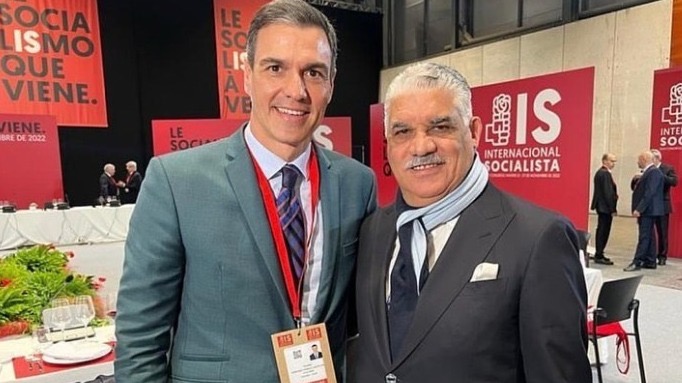 Madrid.- Miguel Vargas, the president of the Dominican Revolutionary Party, took to his social networks to extend warm congratulations to Pedro Sánchez for his remarkable performance in the general elections in Spain.
In his message, Vargas praised his friend and colleague Pedro Sánchez for the significant achievements and progress made during the years of the Spanish Socialist Workers' Party's government. He expressed his delight that the majority of Spaniards decided to continue on this path, endorsing the coalition government headed by the socialist leader.
It is worth noting that although the conservative Popular Party emerged as the winner of the general elections in Spain on Sunday, they fell short of the required margin to oust Pedro Sánchez's coalition government. As a result, a period of uncertainty and negotiations has commenced, potentially leading to a political impasse and the need for new elections.
With nearly 100% of the ballots counted, both the Popular Party and the Spanish Socialist Workers' Party maintained their dominant positions in parliament, but neither secured the 176 seats necessary for an outright majority. Alberto Núñez Feijóo from the Popular Party and Pedro Sánchez both promptly presented their credentials to lead the new government, but they will have to navigate complex coalition-building processes to achieve the desired outcome.
Feijóo asserted the 136 seats won by the Popular Party—47 more than in the previous general elections of 2019—as a claim to the right to initiate negotiations.
In this evolving scenario, Pedro Sánchez will likely have more potential allies to forge a broad-spectrum coalition, with Basque and Catalan nationalist and pro-independence parties coming into play. The left-leaning block, which would support Sánchez, currently holds 172 seats, compared to the right's 170 seats.
As negotiations and discussions unfold, the political landscape in Spain remains fluid, and both parties will seek to secure the necessary support to form a stable and effective government.