Tropical wave, trough and post-tropical cyclone move in the Atlantic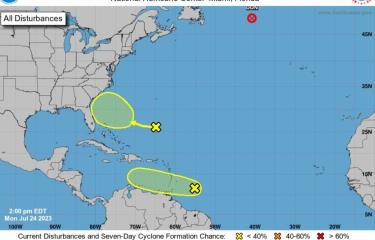 Santo Domingo.- As of Monday, there are three weather systems moving in the Atlantic Ocean, as reported by the United States National Hurricane Center. One of the systems is a tropical wave that formed last Thursday and is currently located east of the Lesser Antilles. It has a 20% chance of cyclone formation in the next 7 days. Local heavy rain and strong gusty winds are possible in parts of the Lesser Antilles over the next day or two. Environmental conditions are expected to become unfavorable for its development by mid-week.
Another system is a weak low-pressure trough located south of Bermuda. It has a low probability of formation (close to 0 percent) in the next 48 hours and a 20 percent chance in the next 7 days. Environmental conditions are expected to become marginally conducive to its gradual development as it moves toward the southeastern United States coast later in the week and through the weekend. However, this system does not pose a direct danger to the Dominican Republic.
The third system is a post-tropical cyclone named Don, located east/northeast of Cape Race Newfoundland, Canada. As of now, it does not offer any danger to the Dominican Republic due to its position and displacement.
The National Meteorological Office (Onamet) is closely monitoring the tropical wave and its effects on certain provinces in the Dominican Republic on Tuesday, bringing cloudy patches, local downpours, and isolated thunderstorms. However, there is no immediate threat to the country from any of these systems.