Hilary grows to a category 3 hurricane in the Pacific and heads for the Baja California peninsula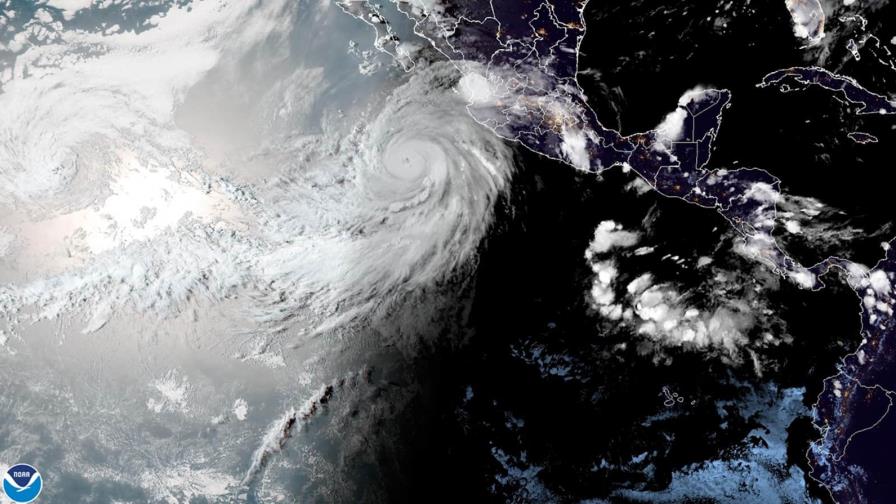 Santo Domingo.- As of Thursday night, Hurricane Hilary has escalated to a category 3 hurricane on the Saffir-Simpson scale while traversing the Mexican Pacific. The National Meteorological Service (SMN) of Mexico has predicted that the storm's bands of clouds will persist, leading to heavy rains, strong gusts of wind, and high waves in the southern, western, and northwest regions of the country.
In the most recent update, SMN reported that at 6:00 p.m. local time (00:00 GMT on Friday), Hurricane Hilary was positioned 585 kilometers southwest of Playa Pérula, Jalisco, and 715 kilometers south of Cabo San Lucas, Baja California Sur (BCS). The hurricane is moving west-northwest at a speed of 22 kilometers per hour, sustaining winds of 195 kilometers per hour with gusts of 215 kilometers per hour.
The SMN has maintained a tropical storm prevention zone extending from the south of Cabo San Lázaro to the south of Los Barriles, BCS, and a tropical storm surveillance zone from northern Cabo San Lázaro to Punta Abreojos, and from the north of Los Barriles to Loreto, BCS.
The Mexican government has issued warnings that Hurricane Hilary is projected to escalate to a category 4 hurricane on Friday and might have a dual impact on the Baja California peninsula. It's anticipated to make landfall on Saturday in Punta Eugenia, BCS, and then possibly on Sunday evening in Ensenada, Baja California state, near the US border.
The SMN forecasts heavy rains (75 to 150 mm) in Nayarit, Jalisco, Colima, and Michoacán, as well as very heavy rains (50 to 75 mm) in Sinaloa and Guerrero. Wind with gusts of 70 to 90 kilometers per hour and waves of 4 to 6 meters high are expected in Jalisco, Colima, and Michoacán, with gusts of 50 to 70 kilometers per hour and waves of 3 to 5 meters high along the Guerrero coast.
The SMN has urged the public to exercise extreme caution in the affected states, adhering to recommendations from authorities regarding rain, wind, waves, and maritime navigation.
Hurricane Hilary is the eighth named cyclone of the current Pacific hurricane season. While seven named cyclones have formed so far this season, none have caused damage in Mexico. The Mexican government had previously predicted the potential formation of up to 38 named cyclones in the 2023 season, with the possibility of five impacting the country. Between 16 and 22 systems could occur in the Pacific Ocean, and between 10 and 16 in the Atlantic, according to the forecast made in early May.