Calm ends in the Atlantic with three named storms and one close to forming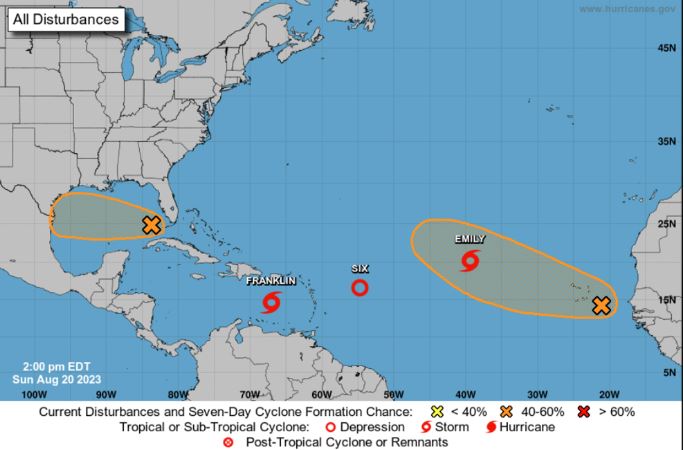 Miami.- Tropical storm Gert has emerged in the Atlantic basin, joining Emily and Franklin in recent hours. This reactivation of cyclonic activity marks a shift from a few months of relative calm. The Gulf of Mexico is also experiencing heightened activity, with the potential formation of a depression or tropical storm within the next 24 to 48 hours.
The United States National Hurricane Center (NHC) has forecasted that Gert, currently located approximately 455 miles (730 km) from the northernmost Leeward Islands in the Lesser Antilles, will be short-lived and have minimal effects on the land. Meanwhile, Emily is progressing west-northwest over open ocean and is anticipated to transition into a post-tropical cyclone without posing a threat to land.
In contrast, Franklin, which developed south of Hispaniola (Dominican Republic and Haiti) on Sunday, is expected to have a more significant impact. According to predictions, the center of Franklin will reach the southern part of the island on Tuesday. As of this morning, the storm was situated about 235 miles (380 km) south of Santo Domingo, moving west at a speed of 12 miles per hour (19 km/h), with maximum sustained winds of 50 miles per hour (85 km/h).
A tropical storm warning has been issued for the southern coast of the Dominican Republic, stretching from the border with Haiti eastward to Isla Saona. A similar advisory is in effect for the entire south coast of Haiti, from Anse d'Hainault eastward to the Dominican Republic's border. Furthermore, a tropical storm watch applies to the entire north coast of the Dominican Republic, eastern Haiti, and the Turks and Caicos Islands.
As Tropical Storm Franklin approaches landfall on Tuesday, its winds, extending outward up to 60 miles (95 km), are expected to intensify. The rain generated by the storm will impact parts of the Dominican Republic and Haiti, potentially reaching up to 15 inches (381 millimeters) in isolated areas. In the following days, this rainfall is forecasted to extend to Puerto Rico.
Additionally, a storm surge could elevate sea levels by 1 to 3 feet (30 to 91 centimeters) along the coastline that Franklin will touch. Meanwhile, the Gulf of Mexico is witnessing the organization of downpours and storms in relation to a broad area of low pressure. Favorable environmental conditions suggest that this system could develop into a depression or tropical storm before reaching the Mexican coast, with an 80% likelihood within the next 48 hours.
The Atlantic hurricane season spans from June 1 to November 30, with the period between mid-August and mid-October traditionally being the most active. To date, there have been a depression and seven tropical storms, including Hurricane Don in July. The US National Oceanic and Atmospheric Administration (NOAA) predicted an "above normal" Atlantic hurricane season in its update on August 10, forecasting the formation of 14 to 21 tropical storms, of which 6 to 11 may become hurricanes.