Migration reports the arrest of a Dominican with nine Haitian passports in Elías Piña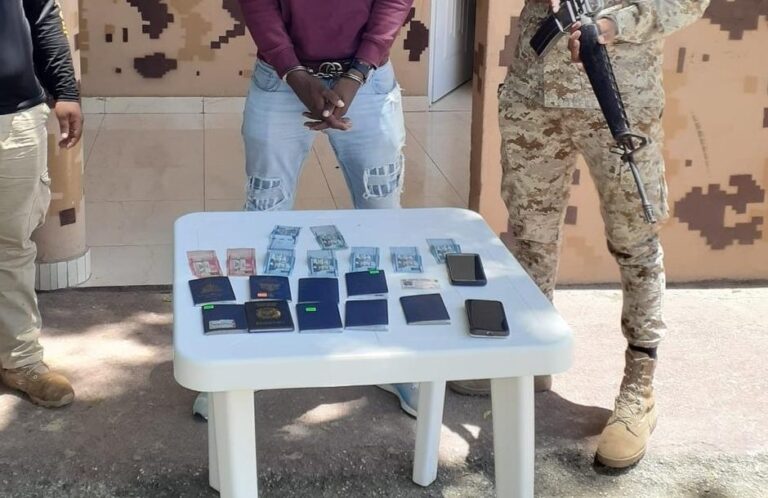 Santo Domingo.- Members of the General Directorate of Migration (DGM) intercepted a Dominican with nine Haitian passports, including one expired, in fact, it happened in the middle of an operation that took place in the Comendador municipality, Elías Piña province.
This is Jhon Morelis Alcántara Montero, a Dominican national, who was arrested aboard the white Honda Civic car, without a license plate, from whom the nine Haitian passports were seized, which contained the names of the Haitian nationals Maratha Pierre, Renald Exantus, Barthelemy Deshommes, and Gertha Claircidor.
Similarly, Jacques Taphena, Andremene Payen, Ricardo Fleurvil Cundumi, Betty Gastón, and Michelle Agla Baptiste, all of the Haitian nationality, also occupying him 16,000 pesos in cash, a driver's license, and other belongings. After being arrested, Alcántara Montero, the vehicle, and the passports were handed over by submission to the Elías Piña Judicial District Prosecutor's Office, for the corresponding purposes, for violation of law 285-4 on migration.
Faced with this situation, the Director General of Migration, Venancio Alcántara, warned that he would apply the corresponding sanctions, as established by law, against those who are dedicated to the transfer and management of documents for irregular migration, which he explained constitutes a crime of trafficking and smuggling of undocumented immigrants that is paid for with jail.
He said that the institution, in coordination with state security agencies, is developing joint strategic measures in the border area, in addition to simultaneous operations to counteract the illegal migratory flow.
Alcántara made it clear that as a guarantor of promoting the immigration policies implemented by the Dominican government, on the instructions of President Luis Abinader, they are carrying out work to guarantee the integrity of people, international agreements, and respect for human rights.
This operation was carried out jointly with Cesfront.