Tropical Depression 13 could become a major hurricane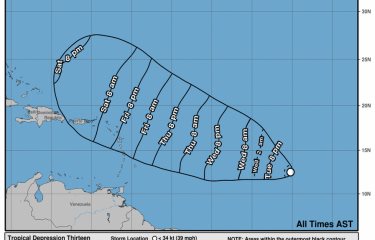 Tropical Depression 13 has formed in the mid-Atlantic from an area of low pressure, and according to the US National Hurricane Center (NHC), it is expected to intensify into a major hurricane by the end of the week.
The depression is currently situated approximately 2,295 kilometers east of the Lesser Antilles and is moving in a west-northwest direction at a speed of 24 kilometers per hour. The NHC predicts that this trajectory will continue over the next several days.
Although the depression currently has maximum sustained winds of 55 km/h, NHC meteorologists anticipate that it will strengthen in the coming days and evolve into Hurricane Lee. By the weekend, Hurricane Lee is expected to reach major hurricane status, which corresponds to category three or higher on the Saffir-Simpson scale.
The Leeward Islands, including locations such as Antigua and Barbuda, Monserrat, and the Virgin Islands, have been alerted due to the developing cyclone. However, the precise impact of the system on these Caribbean islands is still uncertain.
This formation marks the appearance of the 13th depression of the current hurricane season in the Atlantic, which is set to conclude on November 1. This comes shortly after Hurricane Idalia struck northwestern Florida and made its way across the southeastern United States.
Furthermore, NHC meteorologists are also monitoring a robust tropical wave off the coast of West Africa. There is potential for this wave to develop into a tropical depression by the middle of the week. The wave is moving in a west-northwest direction and might pass over the Cape Verde islands between Wednesday and Thursday.
According to an update released by the US National Oceanic and Atmospheric Administration (NOAA) on August 10, an "above normal" Atlantic hurricane season is anticipated, with the projection of 14 to 21 tropical storms forming, including 6 to 11 hurricanes.