Tropical Storm Margot forms in the Altantic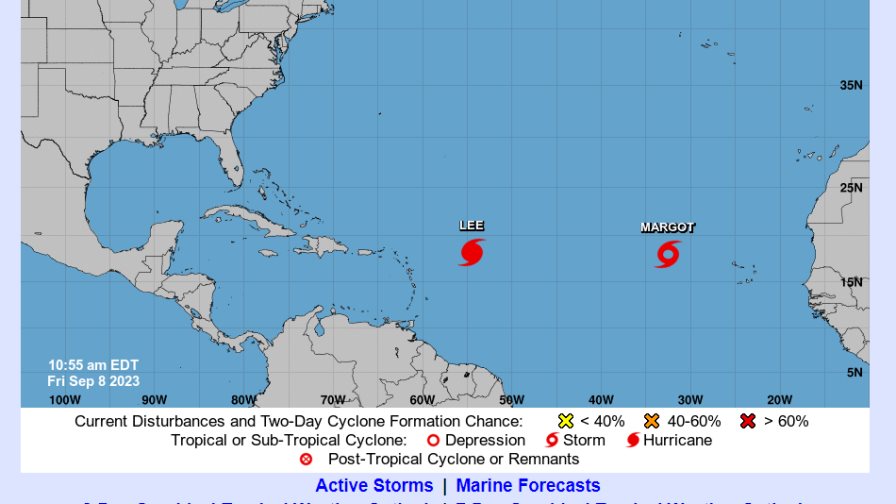 Florida.- Tropical Depression Number 14, which initially formed in the eastern Atlantic on Thursday, has now developed into Tropical Storm Margot. As of this afternoon, Margot is situated approximately 290 miles (465 km) west-northwest of the Cape Verde archipelago, off the West African coast. The storm currently boasts maximum sustained winds of 40 mph (55 km/h) and is moving west-northwest at a forward speed of 17 miles (28 km) per hour. Meteorologists anticipate that Margot will strengthen in the coming days, possibly becoming a hurricane over the weekend. Currently, no coastal watches or alerts have been issued.
In an update issued on August 10, the US National Oceanic and Atmospheric Administration (NOAA) predicted an "above-normal" Atlantic hurricane season, with the formation of between 14 and 21 tropical storms, of which 6 to 11 could become hurricanes.
In a separate development, Hurricane Lee has intensified and reached Category 4 status with maximum sustained winds of 130 mph (215 km/h). It is currently located north of the Lesser Antilles in the eastern Atlantic. Hurricane Lee initially formed as a tropical storm in the central Atlantic, escalated to Category 1 on Wednesday, then advanced to Category 2, and ultimately reached Category 4 on the Saffir-Simpson intensity scale. The storm is forecasted to maintain major hurricane status through the weekend and into the next week as it continues its west-northwestward movement.
Hurricane Lee is expected to generate significant storm surges and dangerous undertows. While no coastal watches or warnings have been issued at this time, areas in the Lesser Antilles should closely monitor the storm's progress. Dangerous waves produced by Lee are expected to impact various regions, including the British and US Virgin Islands, Puerto Rico, the Bahamas, Hispaniola, and Bermuda in the coming days.