Haitians are fueling a conflict on the border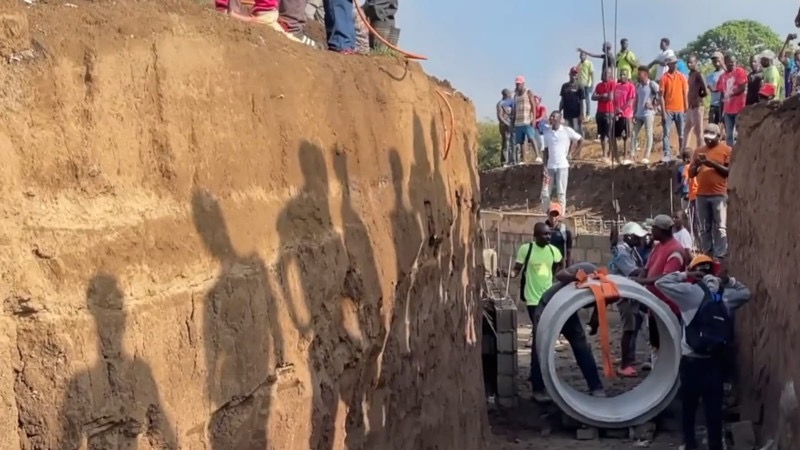 Santo Domingo.- The government has convened an urgent meeting of the National Security Council this Monday to address the situation in Haiti and the new border crisis. Haitian groups have already begun installing culverts in the dredged space, which will serve as a channel to divert waters from the Masacre River.
According to Haitian media, this decision has the support of former Senator Waninque Pierre. A crane was spotted on the western bank of the tributary, lowering sections that will be assembled to form the water conduit. Uniformed Haitian forces are reportedly guarding the work, presumably to provide protection to those involved.
Additionally, a large group of Haitians armed with sticks, machetes, and stones is stationed day and night around the canal to prevent any interruptions by compatriots affected by the border closure.
Residents in the Maribawo area, where the canal is being built, have initiated night monitoring operations to safeguard the ongoing work. Meanwhile, agents from the Protected Areas Surveillance Brigade of Haiti have been meeting with soldiers from the Dominican Army along the border, although the specifics of their discussions remain undisclosed.
The Dominican Consul in Juana Méndez, Margarito de León, has called on the Haitian government to take measures to halt the construction and end the conflict it has generated. The mayor of Dajabón, Santiago Riverón, has asked Dominicans to support President Luis Abinader's decision to partially close the border due to the ongoing illegal construction of the canal.
Consul Margarito de León has also sent a letter to Haitian authorities, reiterating the intention to seek a harmonious solution within the framework of existing laws and treaties. This impasse has had a significant impact on the border market, causing losses for businesses and merchants in both towns.