Leonel Fernández begins his journey through the United States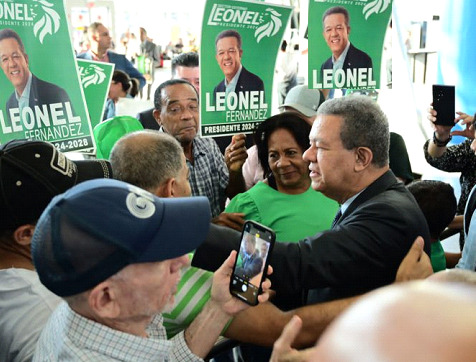 New York.- Dr. Leonel Fernández, the president of the People's Force Party (FP) and former president of the Dominican Republic, commenced a tour of the United States on Tuesday, which will continue until Friday, the 22nd of this month.
Dr. Fernández arrived in Miami, accompanied by leaders of his political organization and a team of military security personnel. During his visit, he will meet with FP leaders and participate in some activities of the Global and Development Foundation (Funglode).
On Friday, the 15th, he will travel to Pennsylvania to hold a meeting with the FP's leadership and members, and he will also meet with the state's governor, Josh Shapiro.
On the following Saturday, Dr. Fernández will attend a breakfast meeting with members of the press from 9:30 to 11:00 in the morning. The event will take place at 2633 Webster Avenue, near 194th Street, in the Bronx, specifically in the lounge of the First Class and Diplo taxi base, above the office of Democratic Assemblyman George Álvarez.
On the same Saturday, he will meet with a substantial delegation of Dominican officials and employees working in the New York City school system. This meeting will take place at a high school located on 116th Street and First Avenue in Manhattan.
In the afternoon, he will inaugurate the FP's party headquarters in Paterson, New Jersey, and swear in several members of the party who have joined from the PRM (Modern Revolutionary Party). On Sunday, he will meet with his supporters in Perth Amboy, New Jersey, as well as with businessmen, merchants, and community leaders.
In the following week, the political leader will participate in a golf tournament in New Jersey and maintain a busy agenda in New York City, meeting with businessmen, professionals, community members, leaders, activists, party supporters, and taxi drivers' associations. He will also engage in academic activities organized by Funglode.
Additionally, he will visit the Long Island area to hold several meetings. On Thursday, the 21st, he will attend a gala dinner organized by the "300 with Leonel" movement (the NY multipliers), led by Geraldo Rosario. The event, which begins at 8:00 p.m., will be held in New Rochelle, New York, and is expected to be attended by more than 200 businessmen from various sectors.