Haitians protest against Dominican measures for the canal and ask for the departure of Ariel Henry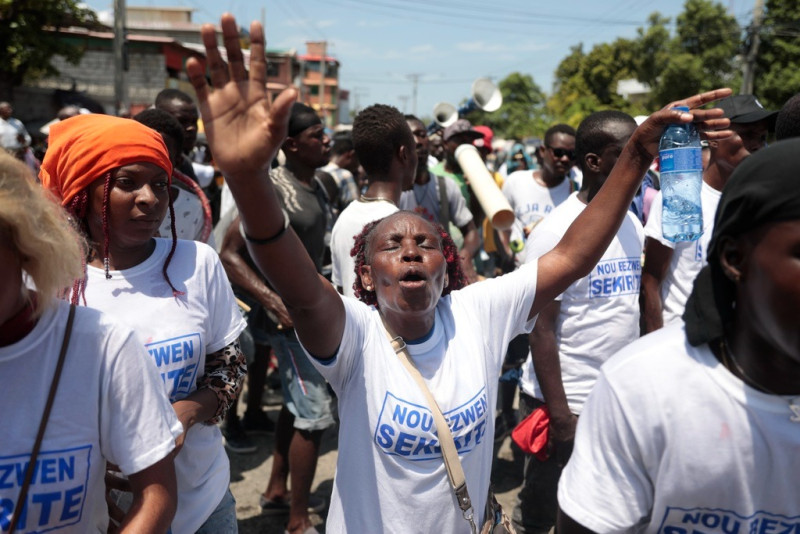 Haiti.- In Port-au-Prince, hundreds of Haitians gathered in a protest demanding the resignation of Prime Minister Ariel Henry on Sunday. They expressed frustration over his perceived inability to govern the country, which is grappling with an enduring socio-political and economic crisis. This turmoil is further exacerbated by a conflict with the Dominican Republic concerning the use of the Masacre River, which serves as a natural border between the two nations.
The protest, organized by the new political party Engages pour le Developpement (EDE), led by former Prime Minister Claude Joseph, attracted participants who voiced concerns about the plight of those displaced by ongoing conflicts and living in challenging conditions on the streets and in schools.
During the demonstration, which marched to the prime minister's residence, protesters also decried recent incidents of racism against Haitians living in the Dominican Republic. They criticized the Dominican government's unilateral decision to close the borders, both land and maritime, in an attempt to halt the construction of an irrigation canal on the Massacre River in northeastern Haiti.
Protesters expressed unwavering support for the farmers in Ouanaminthe (Juana Méndez) who are engaged in building the canal, which is intended to irrigate more than 3,000 hectares of land in the northeastern part of Haiti.
The Dominican government initiated the border closure last Friday as a means of pressuring Haiti to halt the water intake project. This blockade also led to the suspension of the binational market in the Dominican municipality of Dajabón, resulting in economic losses for local merchants and producers and shortages of supplies on the Haitian side of the border.
Since the border closure, thousands of Haitians have been returning to their country, often waiting in long lines with their limited belongings during the designated border openings at noon and 4:00 PM.
Additionally, the Dominican president, Luis Abinader, took other measures, such as suspending visa issuance for Haitian citizens and expressly forbidding the entry of nine Haitian citizens, including Camiel Samson, considered a key figure associated with the contested canal project.
In response, the Haitian government defended its right to exploit its natural resources, asserting that, like the Dominican Republic, it has the full right to capture water from the Massacre River in accordance with the 1929 bilateral agreement. Nevertheless, the Haitian Ministry of Foreign Affairs emphasized the importance of dialogue to resolve the crisis, even as various organizations within the Dominican Republic strongly criticized the retaliatory measures taken by the Abinader government over the irrigation canal dispute.