Nigel becomes a hurricane and is expected to be a major cyclone in the mid-Atlantic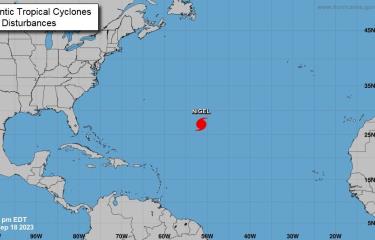 Santo Domingo.- Tropical Storm Nigel underwent intensification overnight, becoming a hurricane, and is projected to further strengthen into a major hurricane by Tuesday. The storm is expected to maintain its course over the open waters of the Atlantic, with no immediate coastal warnings issued, according to the United States' National Hurricane Center (NHC).
As of this morning, Hurricane Nigel was positioned approximately 935 miles (1,510 km) east-southeast of Bermuda. It has recorded maximum sustained winds of 80 miles per hour (130 km/h).
According to the NHC, Nigel is forecasted to undergo rapid intensification and reach major hurricane status, specifically Category 3 or higher on the Saffir-Simpson scale, by Tuesday. The Saffir-Simpson scale ranges from 1 to 5, with Category 3 indicating significant strength.
Currently, Hurricane Nigel is moving northwest at a speed of 12 miles per hour (19 km/h). This trajectory is expected to persist for the coming days before the storm makes a turn to the north and accelerates its forward speed over the course of the week.
Nigel's hurricane-force winds extend outward up to about 25 miles (35 km) from its center, while tropical storm-force winds reach outwards up to 160 miles (260 km).
While Hurricane Nigel is not an immediate threat to coastal areas, it's important for those in potentially affected regions to stay updated on the storm's progress and heed any official advisories or warnings.