AILA: Haitian travelers fill Copa and Arajet seats after border closure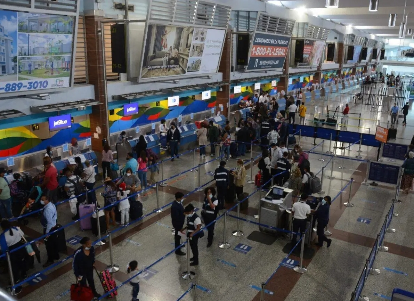 Santo Domingo.-Following the closure of the border between the Dominican Republic and Haiti ordered by President Luis Abinader, there has been a noticeable increase in the departure of Haitian travelers to various countries in Central and South America from Las Américas International Airport (AILA).
At the AILA terminal, authorities have observed a significant number of Haitian nationals, including entire families, departing on flights to destinations such as Costa Rica, Venezuela, Colombia, Panama, Ecuador, and Nicaragua. These travelers are boarding regular flights operated by airlines like Arajet and Copa Airlines, which offer services from AILA to these specified destinations. Both airlines have established dedicated queues to accommodate Haitian travelers.
Many of these Haitian travelers belong to the middle class, with some being residents of Santo Domingo, and others having arrived in the Dominican Republic shortly before the border closure was imposed.
An executive from one of these airlines mentioned that there has been a considerable increase in reservations made by Haitian nationals to travel not only to the mentioned countries but also to other nations, particularly in Central America. Flights are operating at full capacity, often carrying entire families.
The closure of air, sea, and land operations between the Dominican Republic and Haiti took effect after President Abinader's decision. This decision was prompted by the Haitian government's construction of a canal over the Masacre River, diverting its flow to Haiti at the expense of Dominicans, especially those residing in the province of Dajabón. This situation has led to a surge in Haitian travelers seeking to depart for other destinations in Central and South America.