Experts warn about massive bleaching of corals in the Dominican Republic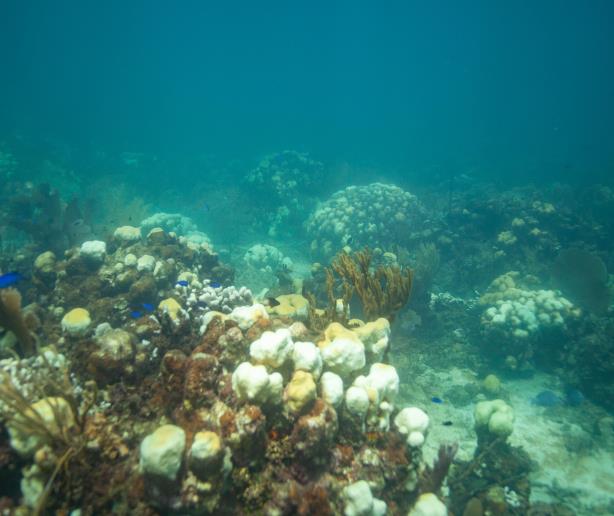 Santo Domingo.- On Monday, Diario Libre embarked on a reef exploration mission off the northern coast of Catalina Island in La Romana as part of the ongoing monitoring efforts led by the Disease Commission of the Dominican Reef Network. This collaborative initiative brings together various public and private institutions at the national level.
Upon arrival at the site, two tourist boats extended the opportunity to approximately forty tourists, mainly foreigners, to partake in a unique snorkeling experience amidst one of the most well-preserved coral reefs in the area.
As bathers marveled at the vibrant underwater world, various species of fish gracefully surrounded them. From the water's surface, they gazed upon a lush coral reef that thrived at a depth of approximately six meters.
However, for the experts from the Dominican Foundation for Marine Studies, the coral's beauty was overshadowed by the stark reality of coral bleaching affecting different colonies. This ominous sign raises concerns about the imminent threat posed to the survival of this reef and others throughout the country.
In 2019, the initial mass bleaching event was documented in the Bayahibe region, attributed to an unusual rise in sea temperatures linked to climate change.
According to the Dominican Reef Network (RAD), recent weeks have seen reports of coral bleaching in several areas, including Punta Cana, Sosúa, Samaná, La Romana, Bayahíbe, La Caleta de Bocachica, and Palmar de Ocoa.
But what exactly is coral bleaching? Coral bleaching occurs when corals lose their vibrant and healthy colors due to environmental stress, primarily caused by rising water temperatures. Corals, marine animals, maintain a symbiotic relationship with photosynthetic microorganisms known as zooxanthellae, residing in their tissues. These zooxanthellae provide nourishment and color to the corals through photosynthesis.
When corals endure environmental stress, such as a sudden increase in water temperature, the symbiotic bond between corals and zooxanthellae breaks down. Consequently, corals expel the zooxanthellae from their tissues, resulting in the loss of their characteristic colors and rendering them white or pale. This phenomenon is termed coral bleaching.
Coral bleaching itself may not be immediately fatal, but it weakens corals substantially, rendering them more susceptible to diseases and eventual death. Prolonged exposure to stressful conditions can lead to coral mortality. Moreover, coral recovery from bleaching can be a protracted process, lasting years or even decades, depending on local conditions and the corals' capacity to regenerate their populations.
To address this crisis, Dr. Aldo Croquer, a marine scientist at The Nature Conservancy, has developed an experimental model for monitoring coral bleaching. This model, supported by members of the Dominican Republic's coral disease commission, facilitates the analysis of bleaching progression in different regions of the country, employing defined "plots." This approach has been applied in the eastern part of the country and Samaná.
Source: Marvin del Cid, Diario Libre