The US and Ecuador are already preparing the UN resolution for the international mission in Haiti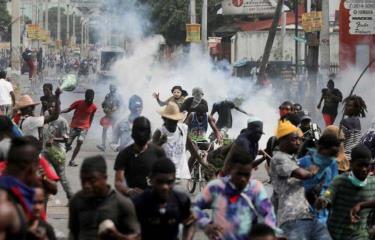 New York.- The United States and Ecuador are currently collaborating on a resolution intended for submission to the UN Security Council. This resolution aims to seek approval for the deployment of an international mission to assist the police forces in Haiti with their security responsibilities.
According to Kristina Rosales, a spokesperson for the US State Department, a "multilateral technical meeting" is scheduled for the upcoming Friday, during which the US government plans to share a draft of the resolution to begin collaborative work.
"We hope that, if everything progresses smoothly, we can secure approval from the Council either next week or shortly thereafter," explained Rosales.
Council sources have confirmed that Ecuador, serving as a co-editor of the document, enjoys the support of the entire Latin American region in this endeavor.
During his recent address to the UN General Assembly, US President Joe Biden implored the Security Council to endorse intervention in Haiti, emphasizing that the Haitian people "cannot wait any longer" for assistance.
It's noteworthy that Kenya has volunteered to lead this support mission to Haiti, offering 1,000 police officers. The Haitian Government has been requesting such aid for months to address the social and security crisis within its borders. Importantly, the UN has clarified that this mission differs from traditional peacekeeping or interposition forces and will function solely as a police support force under the direction of the Haitian police.
Haiti currently grapples with extreme violence, with a significant portion of Port-au-Prince and its vicinity controlled by armed gangs. This dire situation has forced numerous residents to abandon their homes, resulting in a substantial internal displacement crisis.