Cuban Embassy in the US was attacked with fire bombs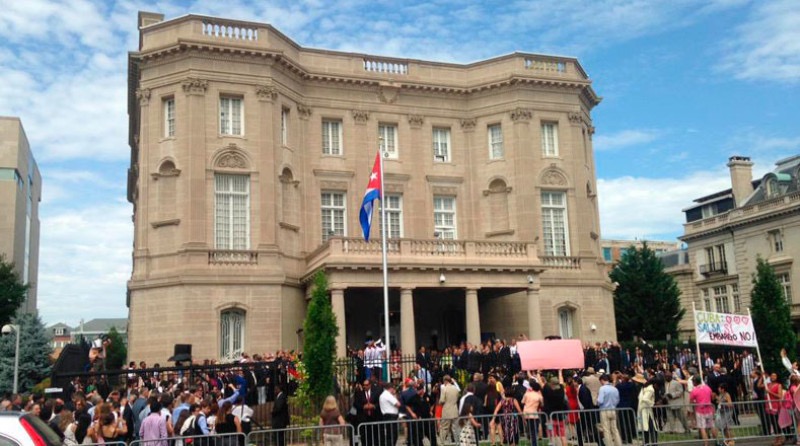 Washington DC.- The Cuban embassy in Washington, D.C. fell victim to a fire bomb attack on Sunday night, as reported by Cuba's Foreign Minister, Bruno Rodríguez.
Fortunately, no injuries were reported among the embassy personnel working at the facility, clarified Rodríguez on his official X network account, previously known as Twitter.
The attack seemingly occurred shortly after President Miguel Díaz-Canel's return to Cuba from his visit to New York, where he participated in the United Nations General Assembly and engaged with Cuban residents and sympathizers living abroad.
The official Cubadebate portal reported President Díaz-Canel's reception by leader Raúl Castro at Havana's airport on Sunday.
Chancellor Rodríguez stated, "Today night, 9/24, the Cuban Embassy in the United States was the target of a terrorist attack by an individual who threw 2 Molotov cocktails." He further mentioned that details of the incident were still being investigated. Notably, this marks the second violent attack on the Cuban embassy in Washington, with the previous incident occurring in 2020, where an armed man of Cuban descent attacked the building and was subsequently identified and detained.
Minister Rodríguez highlighted that "Anti-Cuban groups resort to terrorism because they feel impunity, something that Cuba has repeatedly warned U.S. authorities about" on the social network. Details regarding any potential arrests during this latest attack or damage to the property remain undisclosed.
It is noteworthy that Cuba and the United States reopened their diplomatic missions in 2015 following a historic reestablishment of relations announced by then-President Barack Obama and Cuban leader Raúl Castro in late 2014, ending a more than five-decade hiatus. While ties experienced fluctuations during the Trump administration, including Cuba's inclusion on the list of state sponsors of terrorism, President Joe Biden's administration has maintained several of these measures without closing the diplomatic missions.