Dominican delegation will present Haitian crisis before Parlacen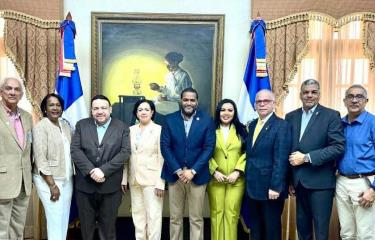 Santo Domingo.- A delegation appointed by Dominican President Luis Abinader has traveled to El Salvador to participate in the Plenary Assembly of the Central American Parliament (Parlacen). The delegation's primary focus is to present the impact of the crisis in Haiti on the Dominican Republic and emphasize the urgent need to respond to the Haitian government's call for a multinational peace mission supported by the United Nations (UN).
Additionally, the Dominican delegation will address the violation of border treaties caused by the illegal construction of a canal on the Dajabón River by a group of Haitian individuals.
The delegation is a multi-sectoral team comprising government officials, leaders of various political parties represented in Parlacen, and academics. Some of the key members include Andrés Lugo Risk, the administrative vice minister of the presidency; José Julio Gómez, the vice minister of foreign relations; and various deputies representing different parties in Parlacen.
This mission is a result of six months of collaborative efforts by representatives from various sectors, who, at President Abinader's request, have been working on developing a national pact to address the Haitian problem. President Abinader has publicly called on the national political leadership to unite and consider this issue as a national concern.
In El Salvador, the delegation will conduct an extensive agenda, including presenting the topic before the Central American Parliament Assembly, holding meetings with the board of directors, benches from different countries, and high-ranking officials of El Salvador, including Vice President Félix Ulloa Garay, Chancellor Alexandra Hill, and the General Secretary of SICA (Central American Integration System), Werner Vargas.