Former Haitian senator says Dominican position strengthens unity in Haiti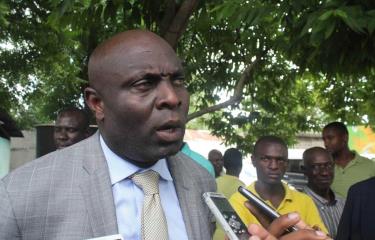 Santo Domingo.- Jacques Sauveur Jean, one of the individuals sanctioned by the Dominican Republic for their involvement in supporting the construction of the canal on the Masacre River, has commented on the ongoing dispute. He believes that the closure of the border and the cancellation of visas for Haitians by the Dominican president have awakened a strong sense of determination among the Haitian people to continue supporting the canal's construction.
According to Sauveur Jean, the canal project, initially proposed during the presidency of Joseph Michel Martelly (2011-2016) and subsequently entrusted to Jovenel Moïse, is of great significance. It aims to irrigate the Maribaroux plain, which, if successful, could pose a threat to the Dominican Republic by potentially reducing imports and access to inexpensive Haitian labor.
Sauveur Jean also highlighted that the current Haitian administration takes a firmer stance in favor of the canal project. Prime Minister Ariel Henry has defended the construction of the water canal and emphasized Haiti's sovereign right to utilize its binational water resources. During the 78th regular session of the United Nations General Assembly in New York, Prime Minister Henry affirmed this position, challenging the Dominican president's assertion that the canal project was a "private initiative."
This dispute over the canal construction continues to be a source of tension and debate between the Dominican Republic and Haiti, with differing perspectives on its potential impacts and legality.