Tropical Storm Philippe remains in the center of the Atlantic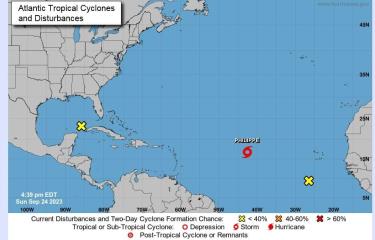 Santo Domingo .- Tropical Storm Philippe continues to hold its position in the heart of the Atlantic basin this Sunday, with sustained winds reaching 85 kilometers per hour, according to the latest report from the National Hurricane Center (NHC). The storm is anticipated to experience only minor fluctuations in intensity over the next three days.
As of 21:00 GMT on Sunday, Philippe was situated approximately 1,975 kilometers to the west of the African Cape Verde islands and was moving in a west-northwest direction at a speed of 19 kilometers per hour.
The storm is projected to maintain this west-northwest trajectory until Wednesday, when it is expected to shift to a northwest direction. This path should keep Philippe in the mid-Atlantic region, away from densely populated areas, until the close of the upcoming week.
It is worth noting that Philippe formed on the same day that Tropical Storm Ophelia made landfall on the eastern coast of the United States, in North Carolina, causing strong winds and heavy rainfall and leaving over 70,000 households without electricity.
Forecasters caution that the remnants of Ophelia are still causing rainfall and generating hazardous surf conditions along sections of the East Coast, stretching from Washington to New York City.
In an update released on August 10, the U.S. National Oceanic and Atmospheric Administration (NOAA) had predicted an "above normal" Atlantic hurricane season for this year, with the potential formation of 14 to 21 tropical storms, of which 6 to 11 could intensify into hurricanes. So far in this season, which concludes on November 30, there have been 6 hurricanes, with one, named Lee, reaching the highest category 5 on the Saffir-Simpson intensity scale.