Dominican Foreign Minister appears today before the Senate to explain the Dominican Republic-Haiti conflict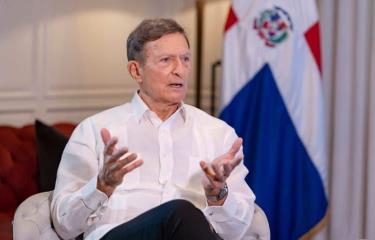 Santo Domingo.- The Minister of Foreign Affairs, Roberto Álvarez, is scheduled to attend today's ordinary session of the Senate to provide legislators with comprehensive details about the ongoing conflict between the Dominican Republic and Haiti concerning the diversion of the Masacre River.
Minister Álvarez will appear before the Senate at 2:00 pm, following the approval of a resolution by Senator Yván Lorenzo, which requested additional information regarding the conflict due to concerns about the "wave of incoherence and misinformation" on the subject.
The resolution approved by the senators highlights the presence of misinformation surrounding the issue and alleges that the Dominican government has held "contradictory positions" on the matter, which Haiti has utilized in its defense.
Senator Elías Piña, a member of the Dominican Liberation Party (PLD), emphasized the importance of the Foreign Ministry convening a meeting with the diplomatic corps in the Dominican Republic to clarify the situation with Haiti and the Dominican position. He also noted the need for the government to provide a detailed account of its positions on the local and international levels regarding the border closure, as these positions have been perceived as inconsistent.
Minister Álvarez has expressed his willingness to attend the Senate session to address any issues of interest to the legislators.
The conflict between the Dominican Republic and Haiti centers around the diversion of the Masacre River into Haitian territory, which has led to measures such as border closures and visa suspensions. In response, the United Nations Security Council approved a resolution to send international military forces to Haiti to address the social and political crisis engulfing the country.