Abinader receives his Suriname counterpart in the Palace on an official visit to the Dominican Republic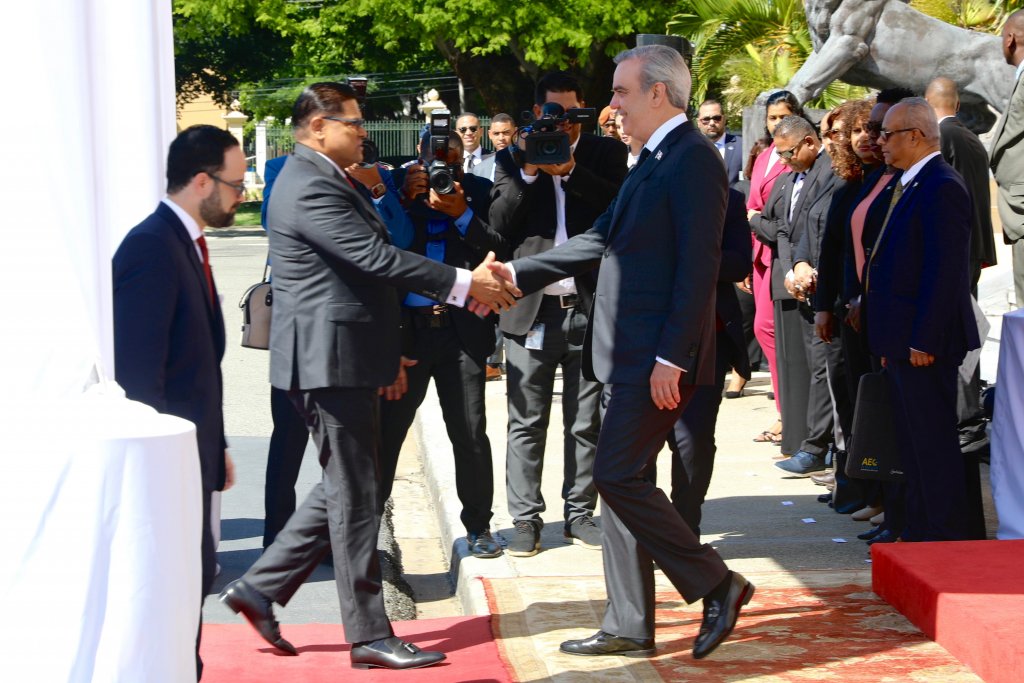 Santo Domingo.- President Luis Abinader welcomed his counterpart from the Republic of Suriname, Chandrikapersad Santokhi, on an official visit to the Dominican Republic. The welcoming ceremony took place at the National Palace, featuring military honors, including a presidential call, the presentation of weapons, a 21-gun salute, and the national anthems of both countries.
The Dominican delegation accompanying President Abinader includes various ministers and high-ranking officials from key government departments, such as Foreign Affairs, the Presidency, Agriculture, Industry, Commerce, Economy, Planning and Development, Energy and Mines, and more.
The Surinamese delegation, led by President Santokhi, includes the Minister of Foreign Affairs, the Permanent Secretary of Foreign Affairs, and other high-level officials.
The two presidents held a private audience and participated in an expanded meeting of the delegations to discuss bilateral matters and strengthen cooperation between the two nations. The visit also included an instrument signing ceremony, a joint declaration, and a lunch.
The official visit of President Santokhi from Suriname is expected to further enhance diplomatic ties and cooperation between the two countries.