Dominican Republic elected member of the UN Human Rights Council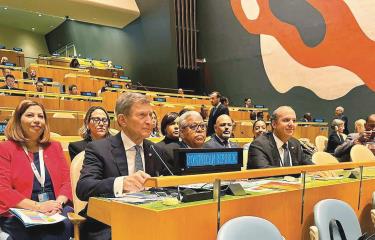 Santo Domingo.- In a historic event, the United Nations General Assembly elected the Dominican Republic as a member of the Human Rights Council for the 2024-2026 term, with 137 votes in favor. This marks the first time the Dominican Republic will serve on the council, joining 46 other countries as a supervisor and protector of human rights worldwide.
With this election, the Dominican Republic commits to upholding and respecting international treaties while setting an example of lawfulness within its territory. President Luis Abinader and Foreign Minister Roberto Álvarez celebrated this achievement as a triumph of Dominican diplomacy.
President Abinader emphasized the country's commitment to promoting and respecting people's rights and international treaties. Foreign Minister Álvarez highlighted this as a milestone for the nation, recognizing it as a testament to Dominican foreign policy and a reinforcement of its leadership role.
According to Juan José Martínez, a professor and foreign policy expert, the diplomatic victory lies in the fact that the Human Rights Council is the most significant body within the United Nations Organization. As the Dominican Republic assumes responsibilities on the council, it gains the opportunity to defend its foreign policy more effectively. This membership allows the country to take concrete actions that illustrate its genuine respect for human rights, countering unfair campaigns against it. The Dominican Republic reaffirms that it does not have discriminatory immigration policies and exercises its sovereignty like any other nation.
Membership in the Human Rights Council is granted to countries that contribute to the promotion and protection of human rights. It's important to note that a council member can be expelled if they commit serious and systematic human rights violations, as seen in the case of Russia.