Chancellor thanks host of Summit of the Americas 2025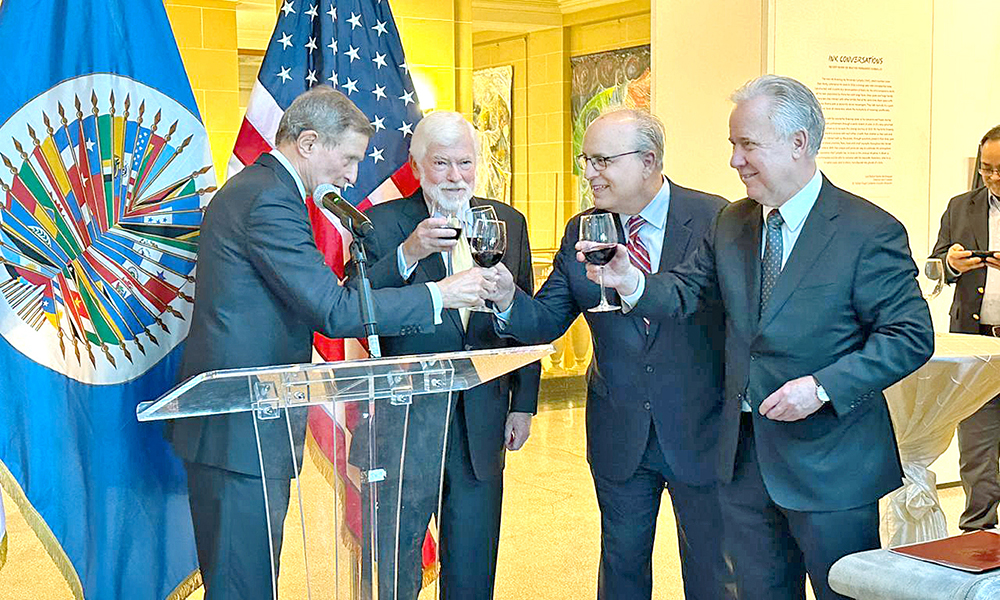 Santo Domingo.- In a formal ceremony hosted at the State Department, Roberto Álvarez, the Foreign Minister of the Dominican Republic, officially received the presidency of the Summit of the Americas from Brian Nichols, the Assistant Secretary of State of the United States. This transfer of presidency marks a significant moment in Dominican diplomacy, highlighting the country's increasing role in regional affairs.
The Summit of the Americas serves as the primary forum for political dialogue and cooperation among Western Hemisphere countries. Since its inaugural edition in 1994, this summit has provided a platform for leaders from the Americas to address various pressing regional challenges, including economic development, environmental sustainability, democracy promotion, and human rights.
Roberto Álvarez emphasized the Dominican Republic's commitment to hosting an inclusive and effective Summit that not only addresses current regional concerns but also charts a proactive path forward. He stated, "Receiving the presidency of the Summit of the Americas is a great honor and a responsibility that we assume with the utmost commitment. We intend to build on the solid foundations left by our predecessors and work tirelessly to ensure that the 2025 Summit reflects the aspirations and will of all the people of the Americas."
The ceremony included the presence of Foreign Minister Roberto Álvarez, the Dominican ambassador to the Organization of American States (OAS) and Deputy National Coordinator of Summits, Josué Fiallo, Vice Minister Hugo Rivera, and other high-ranking officials. Additionally, a group of prominent Dominican business figures from various sectors attended the event, demonstrating the country's dedication to enhancing collaboration and regional integration.
The transfer of the Summit presidency underscores the international recognition of the Dominican Republic as a significant player in the region and reinforces its reputation as a nation committed to multilateralism and inter-American cooperation. The 10th Summit of the Americas, scheduled for 2025 in the Dominican Republic, offers a privileged platform for addressing key regional multilateral issues. The Dominican Republic is determined to continue strengthening constructive dialogue and promoting the development of an integrative agenda that includes proposals from member countries and all stakeholders participating in the Summit.
Throughout the history of the Summits of the Americas, the United States has hosted twice, once as the inaugural host and again as the host for the upcoming 10th Summit. Other host countries include Chile, Canada, Mexico, Argentina, Trinidad and Tobago, Colombia, Panama, and Peru. The Summits are a testament to the shared dialogue and cooperation among the nations of the Americas.