Haitians accuse Dominican soldiers of invading their territory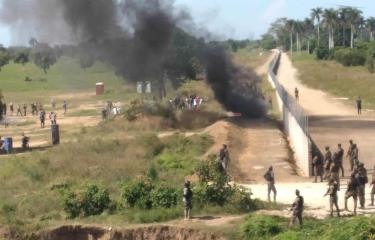 Haiti.- The Haitian perspective on the incident that occurred on the border this Tuesday, near the construction zone of the border fence in Dajabón, portrays Dominican soldiers as the aggressors who forcibly crossed the borderline, leading to the outrage of the residents of Juana Méndez.
According to the Haitian newspaper Le Nouvelliste, the incident unfolded when "Dominican soldiers in their vehicles invaded Haitian soil. Outraged, the local population responded by erecting barricades and setting tires on fire to obstruct the soldiers' advance in the area. In response to this Haitian reaction, the Dominican soldiers reportedly removed the barricades and pointed their weapons at Haitian citizens."
The newspaper highlights that the incident occurred in the vicinity of an irrigation canal under construction, an area that has been a source of tension and controversy between the two countries. However, it does not emphasize what videos of the confrontation reveal, which indicates that the barricades were placed within Dominican territory, defined by border pyramids, rather than the defense fence being constructed across the border.
On the Dominican side, the government views the incident involving a group of Haitians who entered Dominican territory to obstruct the patrol of the Dominican Republic Army on the road near the perimeter fence in the border area as a provocation. The government characterized this action as an attempt to provoke a conflict with unpredictable consequences that could worsen relations between the two nations. The Dominican Republic has called for an immediate halt to such violations.
Haitian citizens claim that the properties adjacent to the Dominican border wall belong to their nation, adding to the complexities of this border dispute.