Powerful gang leader who used to be a math teacher, murdered in Haiti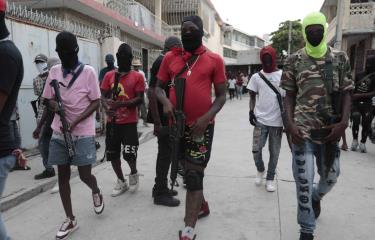 Port-au-Prince.- Iskar Andrice, a notorious gang leader in Haiti who was formerly a mathematics and physics teacher, has been found dead in the Cite Soleil neighborhood. His murder has raised concerns about potential power struggles among factions in the already volatile region.
Andrice, also known as Iscar Andris, had a stronghold in the Belekou community within Cite Soleil. Despite his involvement in criminal activities, he was recognized for his intelligence and education.
The gang led by Andrice was notorious for a range of crimes, including murders, robberies, extortion, rape, and kidnappings. He later joined forces with Jimmy Chérizier, known as Barbecue, the leader of Haiti's largest and most powerful gang, the "G9 Family and Allies." Any interviews given by Chérizier to the press had to be approved by Andrice.
Andrice had also created the Siloé Foundation in 2015, part of efforts by gang leaders to present a more positive image to the public.
However, reports have accused Andrice and other gang leaders of directing lethal attacks against civilians in Haitian neighborhoods. They were also blamed for disrupting operations at Port-au-Prince's main fuel depot, causing significant disruption in the country and leading Prime Minister Ariel Henry to call for the deployment of a multinational force.
The circumstances surrounding Andrice's death remain unclear, but it has sparked concerns that gang violence in Haiti may escalate as rival factions vie for control in his absence.