Tesla, AES Corp. work on solar and energy storage solutions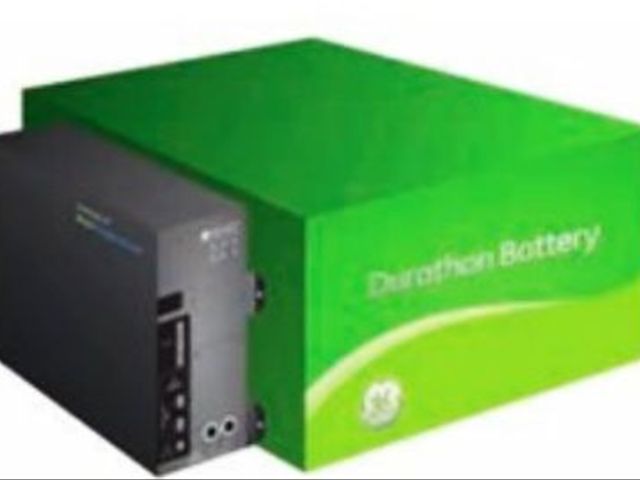 Tesla Motors(NASDAQ:TSLA) has been driving hard over the past few years towardrevolutionizing the auto industry, but an announcement it made earlier in theyear presented a new direction.
Tesla is also workingwith the AES Corporation on solar and energy storage solutions, which theformer calls Powerwall.
Diversifying the usesfor its battery technology, Tesla announced that it was entering theenergy-storage market. As with its auto endeavors, Tesla faces strong — somesay overwhelming — competition. Recently signing its third energy-storage dealof the year, General Electric (NYSE:GE) for example, is one company vying withTesla for energy-storage market share.
What's the deal?
Inking its biggestbattery deal to date, GE will provide a 30 MW storage system to CoachellaEnergy Storage Partners in California –the company's third deal in 2015. Inand of itself, is this crushing to Tesla? No, not necessarily, but it doessuggest that the company is building momentum.
According to JeffWyatt, general manager of GE's solar and energy storage units: "GE iscommitted to the energy storage business. Our goal is to help our customersprovide flexibility across the grid by combining our expertise in plantcontrols, power electronics, systems engineering, and fundamental batteryknowledge."
GE's three 2015projects are all utility-scale — just one of the markets GE is addressing.Featuring its new Durathon batteries, it also has solutions for independentpower producers, facility managers, microgrid, and telecom customers. But,thankfully for Tesla, there's one market missing — residential. Nonetheless,GE sees this as a lucrative market. According to Reuters, Wyatt said GE"wants to be a 'sizable' player in the market for systems that storeenergy to manage power volatility." GE expects the market to grow to $6 billionby 2020.
At the moment, energystorage, found in GE's renewable-energy division, is far from a main driver ofrevenue. The power and water segment reported $6.8 billion in revenue for thesecond quarter. Renewable energy, a sub-segment of power and water, reported about$1.43 billion in revenue
Home sweet home
While GE was makingheadlines in April, signing deals in California and Canada, Tesla was makingits own news, introducing its energy-storage solution. Re-characterizingitself, Tesla shrugged off the misnomer of just being an automotive company.Instead, Tesla Energy defines itself as "a suite of batteries for homes,businesses, and utilities fostering a clean energy ecosystem and helping weanthe world off fossil fuels."
Unlike GE, Tesla hashigh hopes for its residential energy-storage offering. Dubbed Powerwall, thestorage solution provides residents with back-up power when needed, but it alsooffers financial benefits. Powerwall can charge during low-rate periods, whendemand for electricity is low, and deliver the stored power during expensiverate periods, when demand is high.
The company plans onbeginning production of Tesla Energy products this quarter "with a plan toramp up production in Q4." Things won't get really interesting for a few moremonths; battery module and pack production is expected to begin at theGigafactory in Q1 2016.
Expanding from justresidential, Tesla is also addressing the commercial and utility-scale markets.For example, Amazon is piloting a project with Tesla's energy storagebatteries. Located in northern California, the project, if it's successful, mayforetell further adoption at Amazon's data centers — a significantopportunity. According to Amazon, battery storage "complements ourstrategy to use renewable energy to power our global infrastructure." Onthe utility scale, Tesla is partnering with Southern California Edison on threedemonstration projects. More importantly, on the utility-scale, Tesla isworking with The AES Corporation to develop solar and energy storage solutions.Operating in 18 countries, AES serves over 10 million customers through eightutility companies. The company already has 86 MW of energy storage inoperation, and it has projects in development to deliver another 260 MW ofstorage.
Let's state theobvious
It goes withoutsaying that the most significant partner for Tesla as it develops itsenergy-storage business will be SolarCity (NASDAQ: SCTY). Currently, SolarCityoffers its commercial customers energy storage through its DemandLogic service,and, for its microgrid customers, SolarCity offers energy storage through itsGridLogic service
Expecting to beginthe installation of residential systems this quarter, SolarCity intends toinitially offer energy storage to new customers; existing customers will havethe option of upgrading later this year. With a target of 1 million customers– residential, commercial, and governmental — by 2018, SolarCity alonerepresents tremendous potential. The company has two battery options — 7 kWhand 10 kWh — for residential customers. Costing installers $3000 for thesmaller model and $3,500 for the larger, the price does not include inverterand installation. Speaking to foxnews.com, Jonathan Bass, SolarCity's vicepresident of communication, said that a customer can prepay $5,000 for anine-year battery backup service agreement, or "a customer can purchasethe same equipment and installation outright for $7,140." — that's nothing to sneeze at, as thecompany reported $255 million in revenue for 2014.
Tesla expectswidespread delivery of its residential energy storage products later this year,so expect to see sales figures in the coming quarters.
A Foolishly fondfinal thought
GE's Coachella dealis significant, but it's nothing Tesla should fret about. With plenty ofresidential energy to be stored, Tesla's partnership with SolarCity is its mostample opportunity. Automotive sales will be Tesla's bread and butter for sometime, but as the Gigafactory ramps up production and SolarCity is able to offerstorage to more customers, Tesla may find battery sales to be a substantialrevenue stream. Over time, commercial and utility-scale markets may grow significantly,but for now, residential should be the main goal. .
The nextbillion-dollar iSecret
The world's biggesttech company forgot to show you something at its recent event, but a few WallStreet analysts and the Fool didn't miss a beat: There's a small company that'spowering their brand-new gadgets and the coming revolution in technology. Andwe think its stock price has nearly unlimited room to run for early-in-the-knowinvestors! To be one of them, just click here.
Scott Levine has noposition in any stocks mentioned. The Motley Fool owns and recommends SolarCityand Tesla Motors. The Motley Fool owns shares of General Electric Company. Tryany of our Foolish newsletter services free for 30 days. We Fools may not allhold the same opinions, but we all believe that considering a diverse range ofinsights makes us better investors. The Motley Fool has a disclosure policy.
http://www.fool.com/investing/general/2015/10/05/how-big-of-a-threat-is-this-deal-to-tesla.aspx