Labor livid as Dominican Republic wage hike talks drag on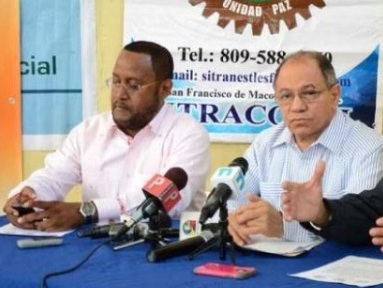 Jacobo Ramos, Pepe Abreu. File.
Santo Domingo.-  National Salaries Committee (CNS) will meet March 14 to continue debates which have dragged on for months over a salary increase between labor and management.
Rafael (Pepe) Abreu, president of the unions grouped in the CNUS, said the employers have been spinning the salary issue and noted that despite that management was given a month to submit their wage proposal, no information has been forthcoming from the National Wage Committee thus far.
"The business leaders requested a month to formulate their proposal, and the month passed and this is the date when the proposal is still unknown," said Abreu.
He warned of a strong response to management if the fail to submit their proposal, as "an intent to delay the process."
"We must be prepared next Tuesday 14 so that, if the business leaders assume their traditional attitude to continue to delaying this process, we will give a strong response. That's why we want colleagues working in private companies and other sectors to try ad attend that meeting at the Labor Ministry Tuesday morning," said the labor leader.
The also labor leader Jacobo Ramos said it's time for the trade unions to assume the commitment of the salary increase. "It's already high time for the economic vice of always dragging the low wages in the Dominican Republic. "
Government
Deputy Labor minister Washington Gonzalez said it's impossible to talk about economic growth in the country without addressing the issue of wages. "I'm convinced that the business class knows that a salary increase should be made in the country. Now, say as Ministry we cannot what percent will be."
The statements came during the National Forum "Economic Growth, Wages and Poverty" held in the Hotel Barcelo Lina.