Operation Shield deploys 895 Dominican Army troops at Haiti border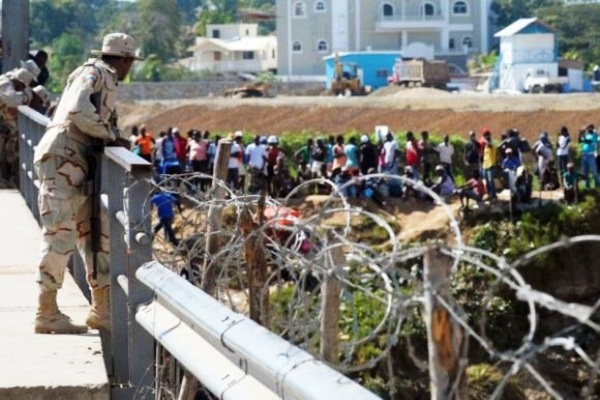 Dominican soldier at Dajabon-Ouanaminthe crossing, over Masacre River
Santo Domingo.- Dominican Republic's Army deployed 895 additional soldiers to bolster surveillance and protection of the national territory, called Operacion Escudo (Operation Shield).
Defense minister Rubén Darío Paulino said Army motorized patrols aim to control the upsurge of undocumented people entering the country. "We're increasing the controls; we're returning people who try to enter our country daily. From Montecristi (northwest) to Pedernales (southwest), the Army is carrying out patrols."
Interviewed on Z101 FM, Paulino said officials of Defense, from Haiti's National Police and that nation's embassy are holding meetings to improve  security at the border between both countries.
In the hour-and-a-half meeting held at Defense headquarters the delegates discussed border security, transnational organized crime, drug trafficking, terrorism, contraband, vehicle theft, deforestation and illegal immigration, not only Haitians, but also Cubans, Colombians and other nationalities.