Several injured in an accident when a bus collided with a car in San Francisco de Macorís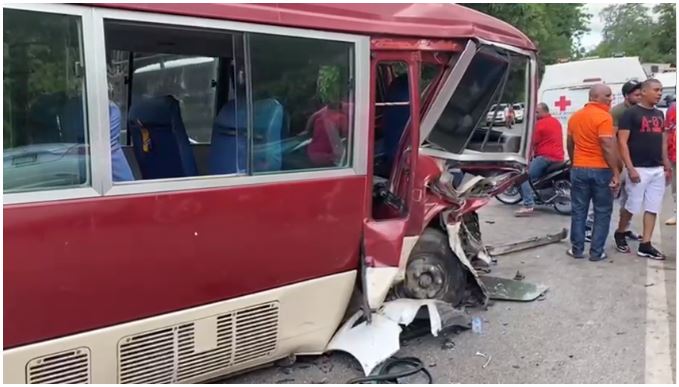 On Sunday afternoon, a traffic accident occurred on Antonio Guzmán Fernández Avenue in San Francisco de Macorís (SFM) involving a passenger bus and a Hyundai Sonata car. While no deaths were reported, a significant number of people were injured and were transported to various healthcare facilities by units of the National System of Attention to Emergencies and Security 9-1-1.
The accident happened at the entrance to the La Guama community in San Francisco de Macorís. According to a bus passenger, the driver of the car was allegedly driving at high speed and under the influence of alcohol against the traffic, which caused him to lose control and crash into a tree. The passenger stated that the driver of the bus attempted to defend themselves but ended up colliding with the car.
The passenger remarked, "That person was driving recklessly. The driver of the car was in our lane and tried to force his way through. When the bus driver pulled over, the car driver looked for us, and then the crash happened. It seems that the driver of the car does not know how to drive."