Abinader tackles impact of natural disasters in Dominican Republic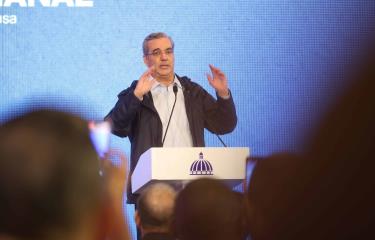 Santo Domingo.- Under President Luis Abinader's administration, the Dominican Republic has endured several damaging natural events. In August 2020, just before Abinader assumed the presidency, he visited Hato Mayor to assess the aftermath of Storm Isaías. Between July and September 2021, storms Elsa and Fiona caused fatalities and approximately RD$20 billion in damage. August 2023 saw Storm Franklin inflict losses of around RD$5 billion. Recently, a tropical disturbance resulted in over 30 deaths, with the full extent of the damage still to be determined.
President Abinader acknowledged the significant financial impact of climate change on the country, emphasizing the need for preparedness. He cited data from the Inter-American Development Bank (IDB) suggesting the need for an investment of 2% of the GDP, around RD$62 billion, for this purpose.
In a press conference at the National Palace, Abinader highlighted the importance of addressing climate change. Max Puig, Vice President of the National Council for Climate Change and Clean Development Mechanism, announced the receipt of US$1.3 million from the Coalition for Disaster Resilient Infrastructure (CDRI) for early warnings in 2023.
The government is evaluating the recent disturbance's impact, particularly on public works and agriculture, with detailed assessments expected soon. The president has reassured the public that necessary funds, whether from the Ministry of Finance or loans, are available to address the damages.
Abinader also announced the formation of an independent commission to evaluate infrastructure in light of climate change. Led by geologist engineer Osiris de León, the commission will work alongside the National Office of Seismic and Vulnerability Assessment (Onesvie) over a six-month period.
During visits to the Duarte and San José de Ocoa provinces, Abinader surveyed rain-affected areas, promising government support for necessary repairs and solutions. Following discussions with the Association of Agrarian Reform Producers, who reported over RD$600 million in crop damage, the president reiterated the establishment of a fund to mitigate damage from natural phenomena.
The Ministry of Public Works, led by Deligne Ascención, clarified that the recent collapse of an overpass on 27 de Febrero Avenue, resulting in nine fatalities, was not due to maintenance issues but was caused by the heavy rainfall.