Queens of the Caribbean defeat Serbia 3-1 and take an important step in the Pre-Olympic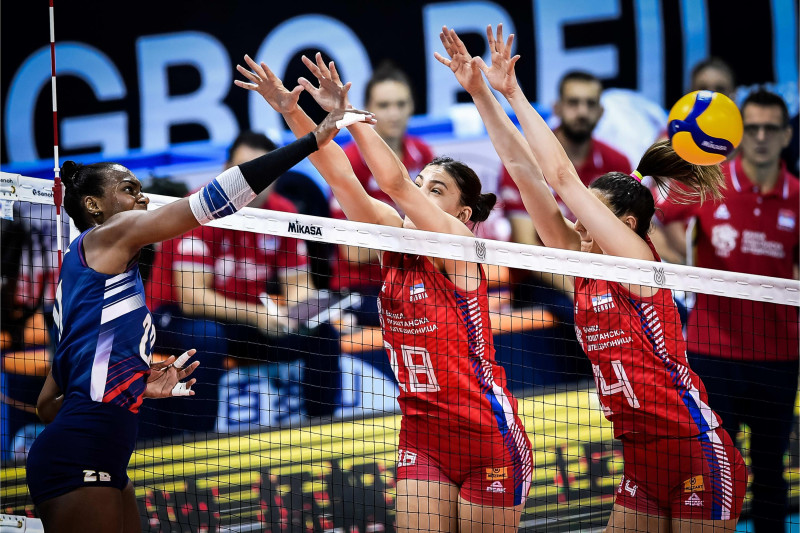 Santo Domingo.- The Dominican Republic women's volleyball team has taken a significant step towards securing their fourth qualification for the Paris 2024 Olympic Games with a remarkable victory over Serbia. In a match corresponding to Group A of the Volleyball Pre-Olympic, the Dominican team defeated the current world champions and second-ranked team, Serbia, with a score of 3-1 (25-23, 18-25, 25-23, and 25-17).
This crucial win has placed the Caribbean team on equal footing with Serbia in first place within their group, both boasting a 4-1 record and accumulating 12 points each.
This victory marks the fourth consecutive win for the Pan American, Central American, and NORCECA champions in the pre-Olympic tournament.
The Dominican team will enjoy a day of rest on Friday and will return to the court on Saturday at 7:30 in the morning for a match against China, currently ranked seventh in the world.
The offensive prowess of the Dominican team was led by Gaila González with 18 points, closely followed by Brayelin Martínez with 16, and Yonkaira Peña contributing 13 points. Cándida Arias and Jineirys Martínez each added seven points.
Despite a remarkable performance by Serbia's star player Tijana Boskovic, who scored an impressive 32 points, they couldn't avoid defeat. Aleksandra Uzela also contributed with 12 points for Serbia.
Notably, the Dominican team's defensive and offensive performance was outstanding, particularly from Cándida Arias and Jineirys Martínez in defense, while Brenda Castillo excelled in defense and became a second setter for the team, providing assists from all corners of the court.
The first set was claimed by the Dominicans with excellent offensive contributions from Gaila, Brayelin, and Yonkaira, along with solid blocking.
In the second set, Serbia, the reigning World Champions, made a strong comeback with effective attacks from Tijana Boskovic and Uzela, combined with solid defense and blocking, evening the match at 1-1.
In the third and fourth sets, the Dominican team displayed a resolute defense, well-coordinated attacks from their key players, and impressive aerial defense by Arias and Jineirys, along with Brenda Castillo's spectacular defense, which left the spectators in awe.
In the fourth set, the Dominican team took control with impressive shots from Yonkaira Peña, and, later, Gaila González sealed the victory at 24-17. A powerful serve from Bethania de la Cruz secured the Dominicans their 25th point and clinched the match with a 3-1 victory.
This victory over Serbia marks the second time this year that the Dominican Republic has triumphed against the current world champions, reinforcing their strong performance in international volleyball.