Sunwing will increase its flights to Puerto Plata next winter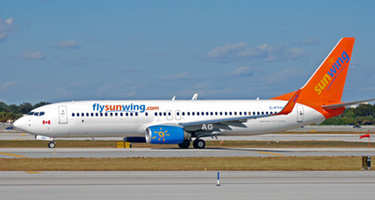 Sunwing Vacations has unveiled its winter 2023/2024 schedule, featuring flights operated by Sunwing Airlines. The schedule includes flights from 23 airports across Canada to 26 popular vacation destinations in the Caribbean, Mexico, Central America, and the United States. The schedule has been designed to meet the high and continuous demand for travel to sunny and sandy vacation spots.
Compared to the previous winter season, the total capacity of Sunwing Airlines has increased by 15%, offering travelers more options to destinations such as Cuba, Mexico, the Dominican Republic, and Florida. Sunwing will also provide Canadian travelers with packages to over 700 hotels, making it the vacation provider with the largest assortment of options in Canada.
In the Dominican Republic, Sunwing will enhance its presence in Puerto Plata by adding additional flights. Additionally, the airline will offer nonstop flights to Orlando for $252 round-trip as part of its US programming.
Regarding Cuba, Sunwing has introduced two new services to Cienfuegos and Manzanillo. These routes will be operated from Toronto-Pearson and Montreal, complementing the airline's existing network that includes nonstop flights to Cayo Coco, Cayo Largo del Sur, Holguin, Santa Clara, and Varadero.
In the Mexican Pacific region, Sunwing is expanding its operations to Puerto Vallarta and San José del Cabo, and is also adding an additional service to Mazatlán.
Andrew Dawson, President of Tour Operations, expressed his excitement about offering more vacation packages and flights to Canadians during the upcoming winter season. He mentioned the company's commitment to serving clients in key regions like Atlantic Canada and the Prairies.
Dawson added, "We are increasing capacity from last winter and are delighted to return to pre-pandemic travel levels with more great packages and affordable travel options available to our valued customers this winter, including Cienfuegos and Manzanillo de Cuba that are new for this year, as well as offering more flights to key areas within the Mexican Pacific, Puerto Plata in the Dominican Republic, and Orlando in Florida."